China Inc. Misses Best Shot to Repay $430 Billion as Yuan Drops
Rush to repay dollar debt risks worsening capital outflows

RBC says debt has dropped from $570 billion, hedging improved
The best time for China Inc. to repay its dollar debt may be coming to an end.
The greenback is rallying after its worst quarter since 2010, threatening to drive up costs for companies seeking to either repay U.S. currency borrowings or hedge exposure. The yuan declined 1 percent since March 31, following a 2 percent rally between February and March. Royal Bank of Canada and Credit Suisse Group AG see more depreciation.
"If corporates haven't taken advantage of this period of yuan gains, they really only have themselves to blame," said Sue Trinh, Hong Kong-based head of Asian foreign-exchange strategy at RBC. "The government won't hold down the exchange rate forever."
RBC estimates Chinese companies' outstanding dollar borrowings have now been trimmed to $430 billion, while Daiwa Capital Markets says as much as $3 trillion was borrowed to plow into the higher-yielding yuan, including by individuals and foreign companies. A rush to repay risks accelerating capital outflows and yuan weakness amid China's slowest economic growth in 25 years.
The yuan's renewed depreciation is a challenge for companies that took advantage of the currency's gains in the four years through 2013 to borrow dollars offshore, profiting from both an appreciating exchange rate and higher interest rates at home. The one-way bets began to unravel as the currency dropped 2.4 percent in 2014 and 4.5 percent last year. Economists surveyed by Bloomberg predict a 2.4 percent decline in the rest of this year.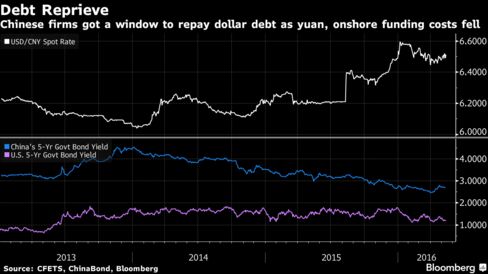 The yuan sank 2.6 percent in August last year after a shock devaluation, and then rose for the next two months as the People's Bank of China intervened in the market to support the exchange rate. The authority reiterated in its latest monetary policy implementation report released last week that it wants to keep the currency stable.
"The recent yuan stability was artificial and likely helped by consistent verbal intervention from the PBOC that there is no depreciation pressure," said Koon How Heng, senior foreign-exchange strategist at Credit Suisse's private banking and wealth management unit in Singapore. "However, in the background, there is growing concern of increasing debt issues. We are watching growing incidences of coupon defaults."
Default Risks
The default of eight issuers in 2016 has rocked onshore debt markets, with some 143 Chinese firms scrapping 160 billion yuan ($24.57 billion) of domestic sales this quarter. That makes it harder to refinance overseas debts as growth falters in the world's second-largest economy. Manufacturing gauges trailed estimates for April, while exports fell 1.8 percent from a year earlier.
"It's not like you can repay all your debt just because you want to," said Kevin Lai, chief economist for Asia excluding Japan in Hong Kong at Daiwa Capital, who estimates overseas debt exposure has dropped 10 percent from its peak. "Some companies may not be able to get all the cash in a short amount of time."
The yuan fell to a two-month low of 6.5240 a dollar this week, and was last trading at 6.5224, while the dollar has gained 1.9 percent against a basket of currencies this month after four regional Federal Reserve presidents said they were open to considering an interest-rate increase in June. The offshore yuan traded in Hong Kong has declined 1.3 percent this quarter and fell to as low as 6.5548 on Friday, the weakest since early March.
Stability, Repayments
Some of China's biggest companies did take advantage of the yuan's stability to trim liabilities. Hong Kong-listed Shimao Property Holdings Ltd., one of Goldman Sachs Group Inc.'s stock picks, said it has repaid at least 11 billion yuan and its repayment target for 2016 is 13.2 billion yuan, said Eva Lau, senior investor relations manager. Air China Ltd. and its subsidiaries reduced their dollar debt to 67.3 percent of the total on March 31 from 73.5 percent at end-2015, according to the company's financial statements.
With the yuan forecast to drop, that task will get harder. RBC sees the yuan weakening to 6.95 a dollar by year-end. Some companies have made significant progress in paying down and hedging their foreign-exchange debt, said Trinh. Foreign-exchange debt deployed onshore has fallen from $570 billion pre-devaluation to around $430 billion now, she said, adding that the hedging ratio has risen to 50 percent on average from 10 percent.
"Ideally, Chinese corporates would have taken this period of calm to hedge risk and restructure offshore loans and capital structure," said Credit Suisse's Heng, who expects the yuan to decline further in the second half of this year. "Time will tell."
— With assistance by Justina Lee, Tian Chen, and Lianting Tu
Before it's here, it's on the Bloomberg Terminal.
LEARN MORE