Brazil Acting President Temer Names Cabinet on Rousseff Exit
Temer names Henrique Meirelles as his finance minister

Calls for unity, economic recovery in first official speech
Brazil's acting President Michel Temer moved swiftly to form a cabinet his first day on the job, pledging to improve investment conditions and protect welfare programs in a bid to pull Latin America's largest economy out of a crushing recession.
Temer on Thursday named as his finance minister Henrique Meirelles, a former Wall Street banker and central bank chief renowned for taming inflation. Meirelles is scheduled to speak to reporters Friday about his plans for the job. The appointment is part of a strategy to revive investor confidence in an economy battered by surging consumer prices, a near-record budget deficit and double-digit unemployment.
"Our biggest challenge is to stop the free-fall in economic activity," Temer said during his first public speech after taking the top job. "To achieve that, it's essential we rebuild the Brazilian economy's fundamentals."
The 75 year-old constitutional lawyer and career politician was speaking at a ceremony to appoint members of his administration, including Romero Juca of his own party, who will run the Planning and Budget Ministry. He hasn't said publicly whether he will name a central bank president to replace the institution's current chief, Alexandre Tombini.
Investors Split
Investors are split whether Temer can unify Brazil and revive growth. While they welcome his plan to downsize government and to make more room for the private sector, some also fear political turmoil could persist and even intensify as critics challenge his legitimacy and try to block his proposals.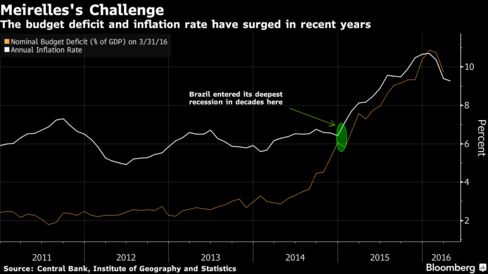 Brazil's Ibovespa stock index rose 0.9 percent on Thursday while the real depreciated the most among its major global peers, as a central bank move to weaken the currency overshadowed euphoria over Temer's appointment.
Earlier on Thursday, a senator hand-delivered the official notification to Temer and Dilma Rousseff that the Senate decided earlier in the day to try her on charges of illegally doctoring fiscal accounts to mask the size of the budget deficit.
Rousseff now faces an impeachment trial in the Senate, which could wrap up by September, according to Juca, who heads Brazil's largest party, the PMDB. She will maintain some presidential privileges during the proceedings such as an official residence, a salary, a security detail and personal staff.
Orderly Vote
Unlike the mass protests earlier in the year for and against impeachment, the turnout of demonstrations in the run-up to the Senate vote was small, with only isolated clashes with police reported. The vote itself was also more orderly than the raucous tally in the lower house last month.
Temer, who split with Rousseff earlier this year and faced accusations of orchestrating efforts to remove her from office, said he would build on his predecessor's more successful programs to provide financial assistance and educational opportunities to the poor.
"It's crucial that we pacify the nation and unify Brazil," he said. "It's crucial we form a government that can save this nation."
Before it's here, it's on the Bloomberg Terminal.
LEARN MORE