Venezuela Opposition March in Caracas Broken Up by Tear Gas
Opposition leader Henrique Capriles injured during march

CNE to begin processing signatures for referendum Thursday
Venezuelan security forces fired teargas and pepper spray at protesters Wednesday, injuring opposition leader Henrique Capriles and forcing a march to turn back from central Caracas.
QuickTake Venezuela's Revolution
The protesters were trying to reach the headquarters of the electoral board, or CNE, demanding that it verify a petition signed by almost 2 million people calling for a referendum to oust President Nicolas Maduro. Organizers told marchers to turn back after clashes broke out and two-time presidential candidate Capriles was pepper-sprayed and taken to a hospital. Capriles later wrote on Twitter that he was in good health.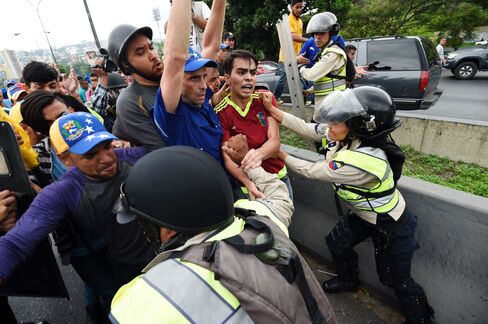 "Caracas is militarized at the moment, but not to protect citizens from violence. Rather, they want to impede access to this peaceful protest," National Assembly President Henry Ramos Allup told reporters at the march.
The CNE said after the march it would begin digitalizing signatures on Thursday, while meeting with representatives from political parties to explain the process. Of 200,197 forms with signatures submitted by the opposition, 21,560 of these are incomplete, the CNE said on its website. The opposition after Wednesday's stifled march called on supporters to rally Saturday morning in Caracas to defend the referendum process.
The opposition coalition says the CNE is intentionally dragging its feet over the petition demanding the recall process. If a referendum doesn't take place before year-end, the constitution states the vice president would take over, rather than hold fresh elections.
The opposition has said the petition was signed by almost 2 million people, far outstripping the 200,000 required by law.
Before it's here, it's on the Bloomberg Terminal.
LEARN MORE