Naira Devaluation Bets Jump Most on Record on Policy Review
Forwards predict 16 percent devaluation in next three months

Review 'may feature' devaluation, Nigeria's VP Osinbajo says
Traders raised bets on a devaluation of Nigeria's naira by the most on record after the vice president of Africa's biggest economy said it was carrying out a "substantial review" of its foreign-exchange policy.
Naira three-month non-deliverable forwards weakened to 237 against the dollar, before paring losses to trade 7 percent lower at 230 by 5:11 p.m. in London, still the biggest drop since the contracts started trading in March 2011. That's implying a 16 percent devaluation in the period from the spot price of 199.05 per dollar, up from 7.5 percent on Wednesday. Twelve-month NDFs fell 6.2 percent to 289.5, suggesting the naira will weaken 45 percent.
Changes to the currency regime are being discussed with the central bank and "may feature" a devaluation, Vice President Yemi Osinbajo said in a speech in Lagos, the commercial capital, on Wednesday. "It's clear that a strategy of demand management alone won't take us far. We need to address the issue of supply. We think a review is necessary. But I can't give a time."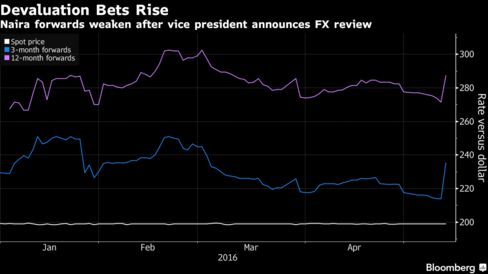 Osinbajo's comments are a shift from recent statements by President Muhammadu Buhari, who has refused to accept a weaker naira since coming to power in May last year and in February likened a devaluation to "murder." He has backed central bank Governor Godwin Emefiele, who has pegged the currency at around 197-199 per dollar for almost 15 months.
Economists have blamed the policy for discouraging foreign investment into Nigeria and creating a crippling shortage of dollars in a country that brings in most finished goods from abroad. Inflation soared to a near-four-year high of 12.8 percent in March as manufacturers struggled to pay for imported goods. Growth is set to slow to 2.3 percent this year, the lowest since 1999, in large part because of the capital controls, according to the International Monetary Fund.
Nigeria's refusal to devalue and relax import controls "is not a sensible policy," Hendrik du Toit, Investec Asset Management Ltd.'s chief executive officer, said in an interview at the World Economic Forum on Africa in Kigali, Rwanda on Wednesday. Investec has about $1 billion invested in Nigeria. "We need the political will to accept that a market-set exchange rate works better."
Black Market
The naira was already under pressure following the government's 67 percent increase in gasoline prices earlier on Wednesday, which it said was necessary because of the rising cost of foreign-exchange for fuel imports. Officials also said marketers could buy dollars from any source, rather than just the central bank or oil companies. The black market exchange rate fell to 341 against the dollar from 320 following the decision, Aminu Gwadabe, chairman of the Association of Bureau de Change Operators of Nigeria, said by phone from Lagos. It may reach 380 next week if the central bank doesn't increase supply in the market, he said.
"There is a concern that the parallel-market rate may trend higher on the back of that, and middle-to-long dated NDFs have generally been influenced by moves in the parallel rate," Samir Gadio, head of Africa strategy at Standard Chartered Bank Plc in London, said in an e-mailed response to questions.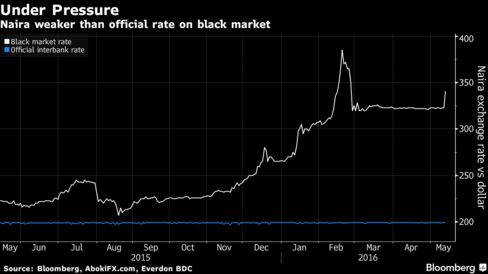 The government is confident that the measures it implements will attract more inflows into the country, Osinbajo said.
"There has to be a substantial re-evaluation of the foreign-exchange policy, especially with the view to increasing FX supply and capital importation," he said.
Before it's here, it's on the Bloomberg Terminal.
LEARN MORE