Freeport Paces Metal-Maker Plunge as Chinese Recovery Stumbles
China copper imports fall from record while steel exports rise

Bloomberg World Mining Index declines most in eight months
Freeport-McMoRan Inc. and Caterpillar Inc. led a drop in miners and equipment makers as signs of a stuttering Chinese economy rekindled demand concerns for industrial metals.
Shares of Phoenix-based Freeport, the world's largest publicly trader copper producer, fell 10 percent at 12:41 p.m. in New York, leading declines in the Standard & Poor's 500 Index of equities. Caterpillar slid 3.6 percent to pace losses in the Dow Jones Industrial Average. The Bloomberg World Mining Index, up 17 percent this year, fell the most in eight months.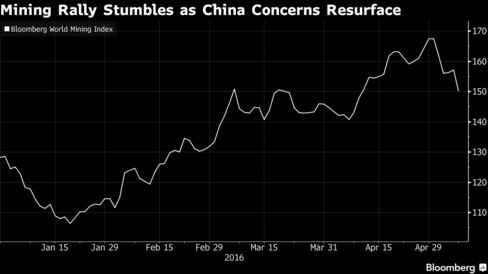 The rout comes after metals and mining shares rallied this year as indications of a stabilizing economy and speculation that the government would take further steps to boost growth buoyed the outlook for demand in China. Metals fell Monday as a slump in Chinese copper purchases and an increase in steel exports revived concerns that supply gluts could worsen. A report in a Chinese newspaper damped expectations for more economic stimulus.
The disappointing trade figures comes after "stimulus and the very strong first-quarter numbers for loan and financing activity in the country were boosting hopes that demand would pick up as investment and activity expanded," Mike Dragosits, a senior commodity strategist at TD Securities in Toronto, said in a telephone interview. "Certainly in the commodity industry the equity markets are very much impacted by commodity prices."
Copper for delivery in three months fell 2.6 percent to settle at $4,686 a metric ton ($2.13 a pound) at 5:50 p.m. on the London Metal Exchange, and touched $4,685, the lowest since April 12. Copper futures for July delivery dropped 2.2 percent to $2.1065 a pound on the Comex in New York.
An index of the six main metals traded in London slid 2.6 percent.
In other markets:
The Bloomberg World Mining Index slumped as much as 4.6 percent in New York, the steepest intraday decline since Aug. 24.
Zinc, nickel, aluminum, lead and tin also fell on the London Metal Exchange.

Milwaukee-based mining-equipment maker Joy Global Inc. headed for the biggest loss since 2008.


Before it's here, it's on the Bloomberg Terminal.
LEARN MORE