Brazil's Itau Said to Be Seeking Cheaper New York Offices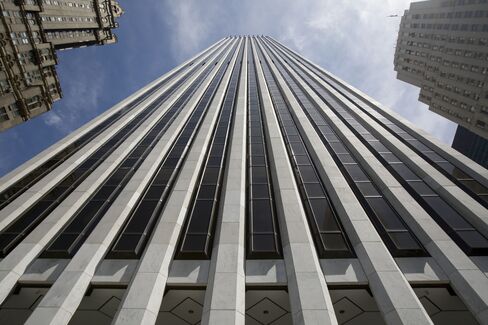 Rent at bank's Fifth Avenue location among highest in Midtown

Expense reductions intensify after first-quarter profit drops
Brazil's Itau Unibanco Holding SA plans to move out of its New York City office on the 50th floor of the General Motors Building, which features views of Central Park and some of the highest rents in Midtown, a person familiar with the matter said.
The firm, Latin America's biggest bank by market value, is searching for a new location in Manhattan as part of a global cost-cutting effort, the person said, asking not to be identified because the plan hasn't been publicly announced. The current office on Fifth Avenue employs about 150 people who handle corporate and investment banking, asset management and broker-dealer businesses for the Sao Paulo-based company.
Brazil's economic and political crisis has hurt the credit quality of many of Itau's customers and pared demand for investment-banking services. The bank last week reported a 10 percent drop in first-quarter profit on a surge in provisions for souring loans. Recurring net income, which excludes one-time items, slid to 5.24 billion reais ($1.5 billion) from 5.81 billion reais.
Rents in the Plaza District where the GM building is located averaged $90.70 a square foot in the first quarter, the highest in Midtown, according to Jones Lang LaSalle Inc., a Chicago-based real estate and investment-management services company. Upper floors of the building would command a large premium over the average. The person declined to say how much Itau is paying for its space.
A representative of Itau declined to comment. The building is controlled by Boston Properties Inc., the largest U.S. office real estate investment trust, which holds a majority stake.
Itau put its brokerage firm in Mexico up for sale in March, and plans to shift resources to countries such as Chile, Colombia and Argentina, where it already has the scale it needs to compete, Christian Egan, deputy head of corporate and investment banking, said in an interview at the time.
Before it's here, it's on the Bloomberg Terminal.
LEARN MORE