Stocks Rally Amid Commodity Revival as Brazilian Assets Recover
S&P 500 surges most since March amid gains in metals, oil

Kiwi advances as central bank zeroes in on housing market
U.S. stocks rallied the most in two months, joining a rebound in global equities as the bearish sentiment that set the tone in markets over the past fortnight eased amid a recovery in commodities. The yen weakened, while Brazil's real climbed.
The Dow Jones Industrial Average jumped 222 points and European shares climbed to a three-week high, helping fuel the steepest one-day gain in the MSCI All-Country World Index since April 13. Emerging-market equities snapped a seven-day slide. Nickel led a rebound in Bloomberg's Commodity Index, while crude oil jumped from a two-week low. Brazilian assets rebounded as the move to oust President Dilma Rousseff was put back on track. New Zealand's dollar bounced, while the Japan's currency nursed a two-day drop.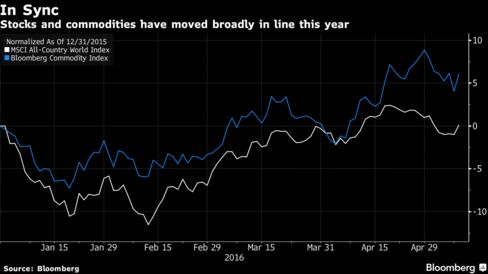 The equity-market bounce follows a selloff last week that erased more than $1 trillion of value amid evidence of lackluster growth in the world's biggest economies, which called into question the effectiveness of central-bank stimulus. The S&P 500 began its rebound on Friday as worse-than-estimated jobs data spurred speculation the Federal Reserve will adopt a slower approach to tightening monetary policy. The yen weakened as Japan's finance minister signaled they have the means to intervene in the currency if necessary.
"Some of the same factors driving commodities are driving global growth and equities in general," said Greg Woodard, a senior analyst and strategist at Fairport, New York-based Manning & Napier Inc., which oversees about $46 billion. "If they feel better about growth in China, in emerging markets and global growth, they feel more positive about equities and commodities. The commodity space is really a barometer as opposed to driving equities."
Stocks
The S&P 500 rose 1.3 percent to 2,084.39 as of 4 p.m. in New York, its biggest advance since March 11. The index hadn't posted a move of more than 1 percent in either direction for 18 straight sessions, the longest stretch of calm since 2014.
Since rallying 15 percent from a February low, the S&P 500 has struggled to press higher amid middling corporate results, particularly from technology giants such as Apple Inc. and Microsoft Corp. Subdued economic indicators have also damped investor appetite for risky assets. The gauge is now up 14 percent from that February trough.
On Tuesday, energy and materials producers led advances, with gains of at least 1.7 percent. Amazon.com Inc. added 3.4 percent, rising to an all-time high of $703.07 after an analyst boosted its price target on the shares to $1,000. Oil companies Exxon Mobil Corp. and Schlumberger Ltd. rose at least 1.6 percent, while Gap Inc. sank 12 percent after its quarterly results disappointed. Walt Disney Inc. fell in extended trading after the company reported below-estimate earnings.
The Stoxx Europe 600 Index advanced 0.9 percent, with most of its industry groups rising as lenders led gains. Greece's ASE Index rose 2.7 percent for the biggest rally among western-European markets.
The MSCI Emerging Markets Index added 0.8 percent, after falling for seven days in the longest slump this year. Brazil's Ibovespa jumped 4.1 percent, after slumping 1.4 percent on Monday. The process to oust Rousseff appeared back on track after the head of the lower house reversed his own call to annul impeachment sessions in the lower house.
Asian shares looked set to extend the recovery, with futures on stock gauges from Japan to Australia signaling gains for Wednesday. Nikkei 225 Stock Average futures climbed 1.2 percent in Osaka, while contracts on Hong Kong's Hang Seng China Enterprises Index were up 0.3 percent.
Currencies
The yen slid 0.9 percent Tuesday to 109.27 per dollar, compounding Monday's slump of 1.1 percent. The currency declined versus all of its 16 major counterparts.
The real advanced 1.1 percent to 3.4764 per dollar, the biggest gain in emerging markets, while the Ibovespa was the world's best performer in dollar terms.
The Kiwi streaked ahead as trading ticked over to Wednesday, rallying 0.8 percent to 68.11 U.S. cents after the Reserve Bank of New Zealand said it's assessing whether further policy measures are required to rein in the country's housing market.
Economists have been speculating over whether officials will resort to more interest-rate cuts to stoke price growth, with the buoyancy in house prices a deterrent for tighter policy.
The Bloomberg Dollar Spot Index, which tracks the greenback against 10 major peers, dropped 0.1 percent Tuesday after rising for five consecutive trading days.
Commodities
Oil rose from a two-week low on concern supplies from Nigeria and Libya, holders of Africa's largest crude reserves, will be disrupted. West Texas Intermediate crude climbed 2.8 percent to $44.66 a barrel, after sliding 2.8 percent on Monday as Canadian oil-sands producers began restarting operations after wildfires forced shutdowns. Prices are still below $45 a barrel on speculation U.S. stockpiles continued to rise last week.
Zinc and nickel rose, a day after industrial metals posted the biggest selloff in two months, as data showing firming inflation eased demand concerns in China, the world's biggest user of base metals. Zinc for delivery in three months gained 0.7 percent to $1,848 a metric ton in London, while nickel added 1.2 percent, after retreating 5.1 percent on Monday.
The biggest rally for soybean futures in more than five years is underpinning a rebound across agriculture as the U.S. government forecast a global glut in the oilseed will ebb.
Bonds
Treasuries pared losses after the U.S. sold three-year notes at a lower-than-forecast yield, another sign that investors expect the Fed to take a gradual approach to raising rates.
Yields on 10-year notes climbed one basis point, or 0.01 percentage point, to 1.76 percent, after earlier rising two basis points. Three-year yields rose less than one basis point to 0.86 percent.
Greece's government bonds and stocks rallied amid optimism after euro-area finance chiefs took a step forward in their bid to unlock aid for the beleaguered nation.
Goldman Sachs Group Inc. sees Japan as a potential source for the next international selloff in bonds. Japanese government securities have driven a worldwide rally in 2016, much as euro-area bonds did last year, and Goldman analysts say the Asian nation's debt now looks overvalued.
Ten-year Japanese yields rose by one basis point Tuesday, to negative 0.085 percent.
Before it's here, it's on the Bloomberg Terminal.
LEARN MORE