Treasury Rebuffs Wall Street Concern Over Bond Market Liquidity
Government premiers market-conditions liquidity measure

Blog post is first in a series discussing debt-market dynamics
The world's largest debt market is sound and traders' ability to transact remains robust, U.S. Treasury Department officials said in a blog posted on the government's website, rebuffing contentions from the bond market's biggest players that trading conditions are deteriorating.
Measures such as daily trading volumes, bid-ask spreads, market depth and the price impact of trades in the $13.4 trillion government-debt market remain within historic averages, according to the post. The new index developed by the government, which incorporates many of these traditional measures, showed conditions are in line with those earlier this decade, though liquidity diminished when market-moving data are released.
"While no individual metric is dispositive, these measures together suggest that liquidity in the Treasury market is consistent with historic levels," James Clark, Treasury deputy assistant secretary for federal finance, and Gabriel Mann, policy adviser in the Office of Debt Management, wrote in the post Friday, which coincided with the premier of a new liquidity gauge. "Importantly, however, these data only reflect a portion of transactions in the inter-dealer market -- electronic platforms where traditional dealers interact with each other and, increasingly, with" principal trading firms.
They added that government access to data on transactions in the dealer-to-customer market "remains limited."
Many bankers and bond dealers contend that regulations enacted since the financial crisis, such as increasing capital requirements and curtailing leverage, restrict dealers' willingness to make markets and have hurt liquidity in some government debt. Treasury and Federal Reserve officials counter that the rules have made the financial system safer.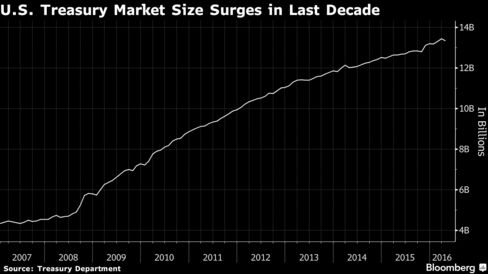 A lack of transparency in the Treasury market became apparent on Oct. 15, 2014, in an event known as the "flash rally," when yields on the 10-year note plunged 0.16 percentage point and then rebounded in just 12 minutes. Regulators struggled to piece together data on market movements that day.
In efforts to discover potential cracks in the market, the Treasury issued a request for information, or RFI, this year as part of its first survey of the market's structure since 1998. In the feedback, a critical point was whether the public should be able to access trading data, such as the size, price and time of various transactions. In order to improve, virtually all groups have said regulators should have all available data on market dealings.
"We find little compelling evidence of a broad-based deterioration of Treasury market liquidity using traditional metrics," Clark and Mann wrote. "While we do observe episodic reductions in liquidity around the release of market-moving economic news such as non-farm payrolls or FOMC decisions, it appears that the extent of the reductions are fairly consistent over time." The comment period for the RFI closed on April 22, and they said they looked forward to updating the analysis with information provided in response to the survey.
Before it's here, it's on the Bloomberg Terminal.
LEARN MORE