Apple's Tumble Worsens as Stock Hits Lowest Since 2014: Chart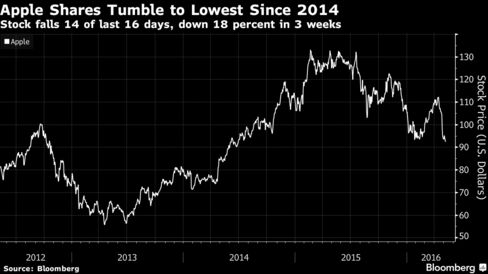 Apple Inc.'s slump worsened, as the iPhone maker's shares fell 1.1 percent to $92.18 -- headed for the lowest closing level since June 2014. The stock has tumbled in 14 of the last 16 sessions, losing almost 18 percent in a rout fueled by concerns that demand for its smartphones is decelerating. More than $75 billion has been erased from the company's shares since it reported results on April 26.
Before it's here, it's on the Bloomberg Terminal.
LEARN MORE