U.S. Stocks Edge Higher, Treasuries Decline as Gold Jumps
S&P 500 pares weekly decline as commodities producers advance

Gold surges past $1,290 an ounce on reduced rate bets
U.S. stocks staged an afternoon comeback to close higher as resource producers rallied with prices for metals from gold to copper. Treasuries fell as a slowdown in jobs growth coupled with accelerating wage gains did little to alter views on the timing for higher interest rates.
The S&P 500 Index pared its weekly decline, as gold's biggest surge in a week bolstered miners while crude climbed toward $45 a barrel. Emerging-market shares headed for the worst week since January amid concerns that global growth is slowing. The drop in Treasuries sent yields higher, while the dollar headed for an 18-month low versus the yen.
"This report wasn't a disaster, it wasn't booming, but it wasn't awful either," said John Canally, chief economic strategist at LPL Financial in Boston, which oversees about $460 billion. "If you're a bear you see some things in here and if you're a bull you see some others. It's more of the same. Things are soft, but not a disaster."
Global equities faltered in the first week of May as data highlighted the fragile state of the world economy, a slew of mixed earnings offered scant evidence of corporate strength, and investors questioned whether central banks can spur growth. Traders reduced wagers that the Fed will proceed with rate increases in coming months.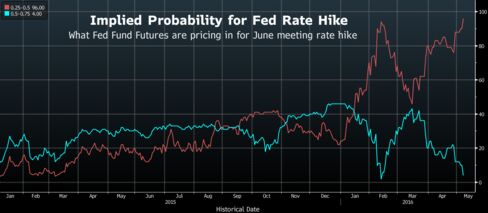 "The top worry is still slower growth than feared and central banks which might stay too passive or even lose the market's confidence of being in charge," said Guillermo Hernandez Sampere, head of trading at MPPM EK in Eppstein, Germany. "We are on thin ice already and we don't need more disappointment as the Fed is eyeing the job market very closely."
Stocks
The S&P 500 Index climbed 0.3 percent at 4 p.m. in New York, halting a three-day losing streak. The gauge has retreated 2.2 percent since reaching a two-month high on April 20. It lost 0.4 percent this week, for the first back-to-back slides in three months.
Health-care shares led losses on Friday, with Endo International Plc slumping to a seven-year low after the painkiller maker cut its full-year earnings forecast to well below analysts' predictions, dragging down stocks from other pharmaceuticals companies.
The Stoxx Europe 600 Index fell 0.4 percent, extending its weekly drop to 2.9 percent, the most since February. The gauge fell 2.9 percent in the week, its biggest loss since the worst of the slump in February, as worries resurfaced about global-growth prospects.
An index of emerging markets retreated 0.6 percent, extending this week's loss to 4.5 percent, the most since January and trimming the gain in 2016 to 1.1 percent.
Currencies
The Bloomberg Dollar Spot Index edged higher on Friday, capping a weekly advance of 1.5 percent. The dollar weakened 0.1 percent to 107.14 yen, after reaching the lowest level since October 2014 on May 3.
The Japanese currency jumped 5 percent last week, prompting policy makers to warn of possible intervention, as the Bank of Japan unexpectedly refrained from adding to record stimulus at a policy review.
The MSCI Emerging Markets Currency Index slid 0.1 percent, bringing this week's loss to 1.6 percent. Russia's ruble led declines on Friday, dropping 0.5 percent. For the week, South Africa's rand sank 5.2 percent, the most among 24 emerging markets.
Commodities
Oil pared a weekly decline as oil-sands disruptions in Canada and lower U.S. output offset rising stockpiles and OPEC production. West Texas Intermediate for June delivery rose 34 cents to settle at $44.66 a barrel Friday on the New York Mercantile Exchange. Futures declined 2.7 percent this week, ending four weeks of consecutive gains
Gold had its best gain in a week after the jobs report weakened the case for the Federal Reserve to raise interest rates. Gold futures for June delivery rose 1.7 percent to settle at $1,294 an ounce. The metal gained 0.3 percent in the week.
Copper capped the biggest weekly loss since 2014 amid mounting concerns about the strength of demand in China, where authorities have taken steps to cool a speculative frenzy.
Bonds
Treasuries fell , with 10-year yields climbing to 1.77 percent, paring a second weekly gain. Investors have been buffeted by mixed signals as they seek clues about the Federal Reserve's monetary policy path.
Global bond yields tumbled to near an all-time low as slow price growth and central-bank stimulus put the market at odds with Federal Reserve officials who are signaling another interest-rate increase may come as soon as their next policy meeting in June.
A selloff in German government bonds was stopped in its tracks this week, with 10-year securities heading for their best week since January. The euro region's benchmark sovereign debt was set for the first week of gains since early April as a retreat in oil prices and faltering stock markets damped demand for riskier assets.
Before it's here, it's on the Bloomberg Terminal.
LEARN MORE