Service Industries Gauge in U.S. Climbs to Four-Month High
American service companies expanded in April at the fastest pace in four months, signaling the economy is firming up after a weak start to the year.
The Institute for Supply Management's non-manufacturing index rose to 55.7 from 54.5 in March, the Tempe, Arizona-based group's data showed Wednesday. Readings above 50 signal growth. The median forecast in a Bloomberg survey called for 54.8.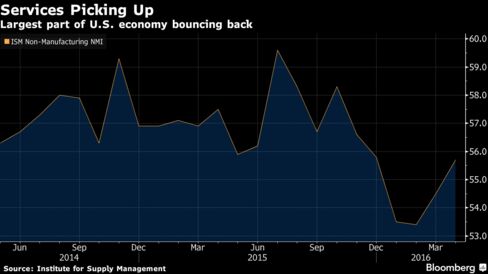 The improvement shows service producers, which account for almost 90 percent of the economy, gained some traction following the slowest quarterly growth pace in two years. Industries including retailers, builders and health-care providers have been less vulnerable to weakness overseas that's kept pressure on U.S. factories.
"Outside of the manufacturing sector, which is more exposed to global competition and the inventory cycle, the economy is chugging along pretty well," Jim O'Sullivan, chief U.S. economist at High Frequency Economics Ltd. in Valhalla, New York, said before the report.
Estimates in the Bloomberg survey of economists ranged from 53 to 55.7. The measure averaged 53.8 this year through March, compared with 57.2 in all of 2015.
The new orders gauge climbed to a six-month high of 59.9 in April from 56.7 the prior month. The measure of services employment rose to 53 from 50.3.
Business Activity
The business activity index, which parallels the ISM's factory production gauge, eased by 1 point to 58.8 last month. A measure of prices paid jumped to 53.4, the highest since May 2015 and indicating costs were accelerating, from 49.1 the prior month.
The supplier deliveries gauge, which measures how quickly companies are able to process orders, held at 51. Readings above 50 mean delivery times slowed, which is a positive signal as it indicates companies were having a bit more trouble keeping pace with demand.
The ISM services survey covers an array of industries, including retail, health care, agriculture and construction.
Consistent job gains have been underpinning the world's largest economy even as overseas demand has languished. A report Friday from the Labor Department is projected to show employment was still on track for steady advances in April. Economists are predicting payrolls climbed by about 200,000 last month after a 215,000 increase in March.
Factory Gauge
The group's manufacturing survey earlier this week showed factories expanded at a slower pace in April, still hobbled by lax global demand and the U.S. energy industry slowdown. The gauge eased to 50.8, barely above the 50 level that indicates stagnation, from 51.8 in March.
The April data mark the first time in six months that the two ISM gauges showed greater divergence, with the non-manufacturing index outpacing the factory measure by 4.9 points. The difference between the two reached a 10-year high of 8.9 points in October, before they eased in tandem amid global headwinds.
Before it's here, it's on the Bloomberg Terminal.
LEARN MORE