Oil Majors Use Billions to Profit From Contango Before It Fades
Shell, Total spent billions storing oil for later delivery

Opportunity is set to vanish next year, DNB Bank says
The largest energy companies in Europe bolstered first-quarter earnings by pumping several billion dollars' worth of oil into storage tanks and holding it there, although the trading opportunity is starting to fade.
Royal Dutch Shell Plc said on Wednesday it employed about $1 billion of capital between January and March buying oil for storage that would be sold later at a higher price. French oil major Total SA last week said it used $750 million on the strategy -- a so-called contango trade. While BP Plc hasn't disclosed how much it spent, the company said its working capital increased by $800 million during the quarter.
The disclosures highlight how the European oil majors' trading operations benefited as the oil surplus created a contango market structure -- where prices for immediate delivery are lower than future months -- even as their profits from exploration and production plunged. The trio's sway in commodities trading, largely unknown outside the industry, paid off in 2015, but repeating the strategy as the year progresses will be trickier, according to DNB Bank ASA.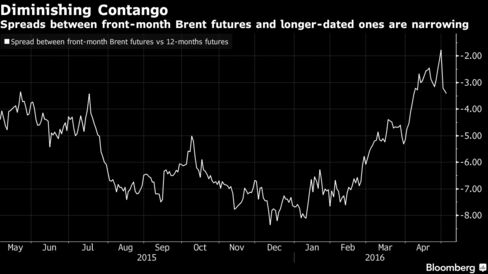 "The contango structure has been wide enough to pay off for onshore storage," Torbjoern Kjus, an analyst at DNB Markets, said by phone. "They're not going to repeat that kind of trading result in the second quarter, even less so in the third quarter," because the contango is weakening as the surplus is diminished, he said.
The spread between front-month Brent futures and contracts expiring 12 months later was as wide as $8.35 as of Dec. 11. The gap narrowed to $3.46 at 5:05 p.m. Wednesday on the London-based ICE Futures Europe exchange.
Trading Strategy
Although better known for their oil fields, refineries, and fueling stations, BP, Shell and Total are also the world's biggest oil traders, handling enough crude and refined products every day to meet the combined consumption of Japan, India, Germany, France, Italy, Spain and the Netherlands.
"The trading business is very material for us now," Simon Henry, the chief financial officer of Shell, said on a call with analysts Wednesday. "The billion dollars is effectively a contango play, holding inventories against future delivery."
Total, Shell and BP all posted first-quarter earnings that beat estimates, thanks to their refining, chemicals and also trading activities.
Supply Disruption
The crude surplus is diminishing on a combination of unplanned supply disruptions in countries such as Nigeria, more persistent declines in nations such as Brazil and the U.S., and seasonal growth in refineries' demand, Kjus said.
While the contango structure is likely to remain until the end of this year, the price gap won't be as wide, Kjus said. For most of 2017, Brent will trade in a structure called backwardation, where short-term prices are higher than future months and storing oil is no longer profitable, he predicted.
"That's the symptom of a better balanced market," he said.
Before it's here, it's on the Bloomberg Terminal.
LEARN MORE