Apple's Losing Streak Is Nearing Historic Levels
Monday's negative day marks only the fourth time shares have dropped eight sessions in a row.
So far in 2016, Apple Inc. is the dog of the Dow.
After an underwhelming earnings report led to the shares' worst week since January 2013, Apple stock extended its losses to kick off May, closing down 0.18 percent on Monday.
The benchmark index's laggard has declined by nearly 11 percent so far this year heading into today's session: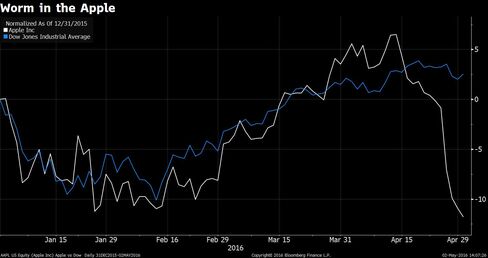 Bespoke Investment Group notes that Monday's negative close marks eight straight sessions in the red for Apple—something that last happened in July 1998, and has now happened only four times in the company's history.
More than $79 billion in Apple's market capitalization has been erased over the past eight sessions. The company's heavy weighting in major sector and benchmark indexes, coupled with the stock's terrible two-week stretch, has made $4 billion in assets of exchange-traded funds evaporate over this stretch. "Smart beta" ETFs are poised to trounce their more popular peers, Bloomberg's Eric Balchunas observes, in the event that this span of underperformance continues.
There's a possible silver lining for Apple bulls, and investors who own those market-cap-weighted ETFs: The stock tends to bounce back in earnest following these rare stretches of rotten performance.
"Two of the three eight-day streaks saw the stock fall on day nine as well, but the stock has never experienced a losing streak longer than nine trading days," Bespoke writes. "While the next day and next week returns following eight-day losing streaks lean negative, the stock has been higher over the next month all three times for a median gain of 8.01 percent."
Before it's here, it's on the Bloomberg Terminal.
LEARN MORE