Vox Media Names First CFO, Adds Former Yahoo President to Board
Appointments put media veterans in management, oversight roles

No immediate plans for IPO, CEO Jim Bankoff says in interview
Vox Media Inc. appointed its first chief financial officer and named former Yahoo! Inc. President Susan Decker to the board, bolstering the online media company's management and oversight amid growth initiatives backed by NBCUniversal.
Stephen Swad, 54, was named CFO after working as acting finance chief for several months, Chief Executive Officer Jim Bankoff said in an interview. He is the former CEO of Rosetta Stone Inc., the language-learning software company, and has worked at Fannie Mae, AOL and Time Warner Inc.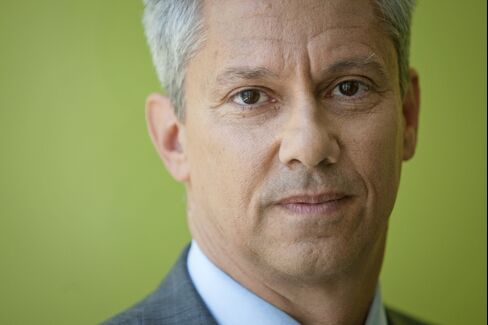 "Steve has built big companies, and we need more experienced executives who can help us do that as we enter new levels of growth," Bankoff said.
While the appointment of a CFO is sometimes seen as a prelude to an initial public offering, Bankoff said Vox has "no immediate plans" for an IPO. With Swad and Decker, the company gains executives with a deep understanding of both traditional and online media. Decker, 53, spent almost nine years at Yahoo and serves on the board of Berkshire Hathaway Inc. and Costco Wholesale Corp.
Vox, which was founded 13 years ago as SB Nation before adopting its current name in 2011, is profitable and increased revenue by more than 50 percent last year, according to a person with knowledge of the finances. The company has raised about $300 million and is valued at about $1 billion, said the person, who asked not to be identified disclosing nonpublic information.
NBC Funding
The funding includes $200 million from Comcast Corp.'s NBCUniversal announced in August. Vox publishes eight news and lifestyle websites, including Vox.com, The Verge, SB Nation, Re/code and Polygon.
Vox's announcements come at a challenging moment in digital media. The Financial Times recently reported that BuzzFeed missed its revenue projections last year. The company has denied the report. Mashable Inc. recently fired staff to focus on creating more video for TV and social media platforms. The Huffington Post cut jobs in January after phasing out daily live broadcasts in favor of videos that could be shared over social media.
Bankoff, a former AOL executive, has said that he wants Vox to be the Conde Nast of the digital age. The company's websites collectively reached 62.5 million unique U.S. visitors in February, up 19 percent from a year earlier, according to ComScore Inc. data.
This month, Vox began jointly selling online and TV advertising with NBCUniversal. Earlier this week, Vox unveiled a new outlet called Circuit Breaker, a gadget blog that publishes largely on Facebook instead of on a website.
"I don't know what expectations people have, but we're seeing tremendous growth," Bankoff said. "We're seeing marketers who want to reach these valuable audiences."
Before it's here, it's on the Bloomberg Terminal.
LEARN MORE