Losses likely for opposition Labour, but damage may be limited

Sturgeon's SNP set to sweep Scotland; Khan favored in London
Elections take place across the U.K. on May 5 and, for once, the pressure is less on Conservative Prime Minister David Cameron than on opposition Labour Party leader Jeremy Corbyn.
Next Thursday's voting in England, Scotland and Wales represents the first big electoral test since Corbyn took over in September, and poor results may increase discontent among lawmakers over his attempt to lead the party down a more traditional socialist path. It may also prove a gauge of the nation's appetite for upset before the June 23 referendum on whether to stay in the European Union.
England -- Victims of Their Own Success
Opposition parties tend to do well in the local elections held across England every May -- but there's a problem for Corbyn this year. The last time this particular set of polls were held was 2012, at the height of popularity for his predecessor, Ed Miliband. That year, Labour took an estimated 39 percent of the national vote, according to local-election experts Colin Rallings and Michael Thrasher from the University of Plymouth. Opinion polling this year suggests Corbyn's party is set for only about 30 percent. Rallings and Thatcher suggest Labour may lose 150 of the 1,337 seats it's defending -- a psychological blow for the opposition party. It's unclear how much fallout there will be from this week's controversy that saw one of the party's lawmakers, Naz Shah, suspended over antisemitic social-media posts.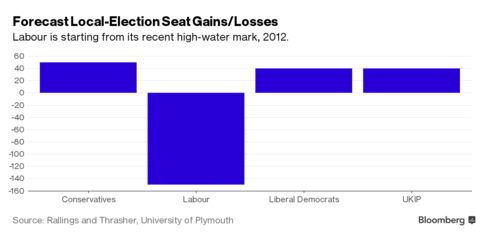 One beneficiary of any Labour losses is likely to be Nigel Farage's U.K. Independence Party, which has an opportunity to build local support in the run-up to the EU referendum. It only holds 28 of the seats being contested and is looking to build on that in areas like Rotherham, in Yorkshire, and Thurrock, east of London.
Scotland -- the Race for Second Place
The headline news from Scotland looks clear -- the Scottish National Party will win the largest share of the vote in elections to the Scottish Parliament for the third time in succession and a second successive majority after 2011. The vote for the parliament, now with more powers over income tax, is shaping up as another triumph for SNP First Minister Nicola Sturgeon, giving her a mandate to call a new independence referendum if she chooses -- though probably not unless the U.K. votes to leave the EU. The closer race may be in the fight for second place.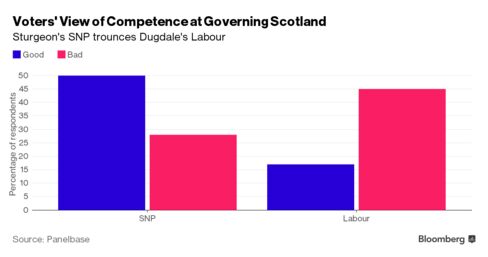 Labour, once dominant in Scotland, has been in turmoil, with Kezia Dugdale becoming its third leader in 12 months last August. Labour "is still struggling to match the share of the vote they achieved in 2011 let alone begin a recovery," according to pollster Tom Costley from TNS Scotland. One survey this week suggested the Conservatives, who've rebuilt support in Scotland under Ruth Davidson, will overtake Labour into second place. John Curtice, professor of politics at the University of Strathclyde in Glasgow, says that would be a "disaster" for Labour, but that Corbyn is largely irrelevant north of the border since the party would be struggling in Scotland under any U.K. leader.
Wales -- 'Sticky' Voting System Helps Labour
Wales is the only nation in the U.K. where Labour is in power -- it won exactly half the seats in the 60-member Welsh Assembly five years ago. But support for the party has declined, with difficulties in the state-run health service playing their part. Labour has come first in 36 out of 37 Wales-wide electoral contests since World War I, and the party's in no danger this time round.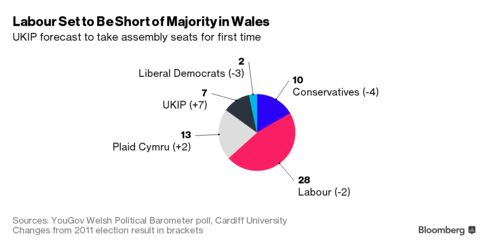 It's helped by Wales's "sticky" electoral system, in which largish shifts in the vote don't necessarily translate into big changes in the number of seats, according to Richard Wyn Jones, professor of Welsh politics at Cardiff University. That will leave Labour still in government, possibly with a minority of seats or a coalition with the nationalists, Plaid Cymru, who are battling the Tories for second place.
London -- the Bright Spot for Corbyn

It's likely to be Friday evening before we know the name of the new London mayor, but barring a major upset, it'll be good news for Labour. Polls and betting odds show Sadiq Khan the clear favorite to beat the Tories' Zac Goldsmith. In truth, it's Labour's election to lose: The party has become dominant in the capital in recent years -- London saw the biggest increase in the Labour vote of any area in the 2015 election -- and Boris Johnson's win for the Conservatives in the past two mayoral elections bucked that trend.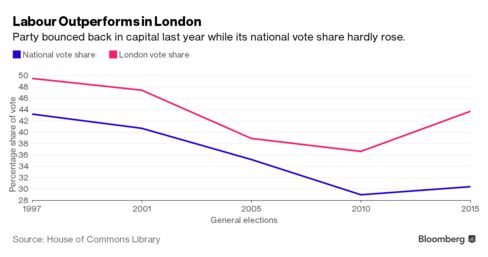 Goldsmith has failed to inspire the electorate and Johnson "is a very hard act to follow," according to Tony Travers, who studies local elections at the London School of Economics. "The Conservatives really are fighting an uphill struggle in London for this office unless they have a very, very charismatic candidate."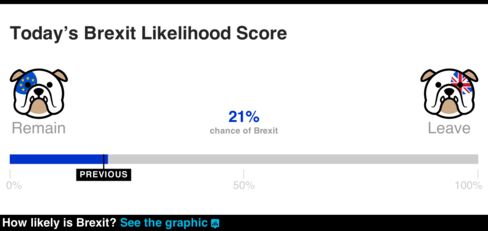 Before it's here, it's on the Bloomberg Terminal.
LEARN MORE