Currency Trading's 20% Drop Raises Specter of Flash-Crash Future
Sudden, disruptive price swings pick up as volumes decline

Yen jumped 2.6 percent in less than 3 minutes on BOJ decision
The world's biggest financial market has shrunk by 20 percent during the past year and a half.
Currency trading via CME Group Inc., ICAP Plc and Thomson Reuters Corp. -- three of the largest trading platforms -- fell to $538 billion per day last month, from more than $669 billion in September 2014, according to data compiled by Bloomberg. The figures show the extent of the slump in a market that this month saw some banks report less client activity, just as the Bank of International Settlements prepares its definitive triennial survey of global volumes.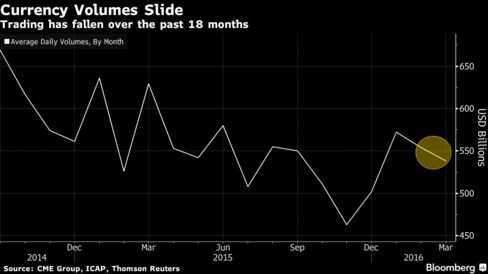 All of this is making bouts of extreme volatility more commonplace as traders find it harder to enter or exit positions without affecting prices. As recently as January, the South African rand tumbled 9 percent in 15 minutes before rebounding; New Zealand's dollar had its own flash crash in August; while the Reserve Bank of Australia concluded that illiquidity caused exchange-rate jolts before three interest-rate decisions last year. And on Thursday the yen jumped 2.6 percent in less than three minutes after the Bank of Japan's decision to refrain from adding to policy stimulus.
"You tend to find volume dropping off if the market's very choppy," said Mark Astley, the London-based chief executive officer of Millennium Global Investments, which oversees about $16 billion. "Banks don't have the capital to commit to warehouse risk any more, so it's kind of pass the parcel. If there's a large trade that's gone through, they don't want to warehouse it and they'll pass it on, so you do get this gap risk."
Warehousing refers to banks taking risk onto their balance sheets.
Volumes Slump
Trading via CME, ICAP and Thomson Reuters plunged to $463 billion a day in November, the lowest since at least January 2013, before increasing in the first quarter, the data show. While trading in the euro has slumped 20 percent from a peak in October 2014, transactions in currencies from the Mexican peso to the Brazilian real have fallen as much as 50 percent from their peak, according to the Bank of England's twice-yearly measure.
When the BIS, the Basel, Switzerland-based central bank for central banks, last surveyed the foreign-exchange market in April 2013, it found $5.3 trillion changed hands every day, up from $4 trillion in 2010. Average daily volumes on CME, ICAP and Thomson Reuters have slumped 9 percent since then, so a similar decline in overall volumes would equate to about $4.9 trillion a day -- still the largest financial market in the world.
"Transactions are relatively stable and easy to execute, even though liquidity is not as strong as it was a couple of years ago," said Ken Dickson, the Edinburgh-based investment director of currency at Standard Life Investments Ltd., which manages about $370 billion.
Rules Apply
Morgan Stanley and Goldman Sachs Group Inc. both noted a slowdown in their currency businesses during recent earnings calls. Goldman Sachs Chief Financial Officer Harvey Schwartz said volatility created "a challenging backdrop for our clients with weak investment performance, and drove difficult market-making conditions" for the lender's fixed-income, currency and commodities division.
Owing to added regulations that increase the price tag on risk, banks -- the traditional intermediary in foreign exchange -- have less incentive to enter currency trades they can't immediately match. The Volcker Rule, named after former Federal Reserve Chairman Paul Volcker, restricts proprietary trading while Basel III's capital requirements mean banks must allocate more capital to offset risks they do take on. Both have prompted banks to step back from market-making activities.
A greater focus on electronic trading, which requires a smaller headcount, has also encouraged the use of algorithms, which can exacerbate the severity and speed of moves in the market.
All this sets the stage for further volatility and more flash crashes, according to Andy Maack, head of foreign-exchange trading at Vanguard Group Inc., in Malvern, Pennsylvania, the world's largest mutual-fund company.
"When everybody hits pause and there's no more liquidity on either side, very, very small orders can take those markets down significantly," Maack said during an event at Bloomberg's New York headquarters last week. "It's these type of movements that will ultimately happen more frequently as we go more into more electronic, more algo trading."
Before it's here, it's on the Bloomberg Terminal.
LEARN MORE