China Factory Deflation Seen Turning on Commodities, Stimulus
Recovering prices boost revenue, ease corporate debt burden

Risk is China exports excess capacity to overseas markets
China's producer-price deflation, now in its fifth year, looks like it has turned a corner.
Prices for products leaving the factory will improve in each of the next four quarters and turn positive in 2018, according to economists surveyed by Bloomberg. Producer prices rose in March on a month-on-month basis for the first time since September 2013.
The comeback is being driven by rising home and commodity prices, an avalanche of credit and a steep slowdown in manufacturing investment. That's good news for companies because recovering factory prices boost revenues and help reduce real interest rates, easing the burden of repayment on corporate debt that's equivalent to about 165 percent of gross domestic product.
"The worst time is over," said Harrison Hu, chief Greater China economist at Royal Bank of Scotland Plc in Singapore. "If the government can keep domestic demand relatively stable, then excess capacity is already at a turning point. The producer-price index should gradually come out of the woods."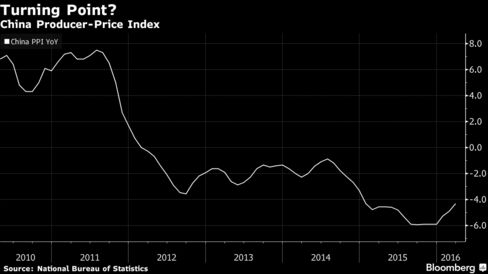 The GDP deflator, a measure of economy-wide inflation, also turned positive in the first quarter for the first time since the last three months of 2014.
As deflation eases, things will start to feel a little less dire for corporate China, providing the battered industrial sector with some breathing space, Thomas Gatley, a senior corporate analyst at research firm Gavekal Dragonomics in Beijing, wrote in a report.
Profits of industrial corporations in March jumped the most since July 2014 due to growth in sales, higher prices, cost cuts and gains from investments, the National Bureau of Statistics said Wednesday.
For the global economy though, recovering factory prices may not be all good. China is likely to keep the credit spigot open in coming months to sustain growth with much of the money destined for weak industries, helping keep zombie companies alive, says Iris Pang, a senior economist for Greater China at Natixis SA in Hong Kong.
"Either they shrink their capacity, which I don't think is likely, or they export their capacity around the world," Pang said. "Even if the PPI in China slows less, I think the rest of the world will still be affected, especially in the materials sectors. For example, Australia really needs to restructure its economy not to put too much focus on exporting iron ore to China."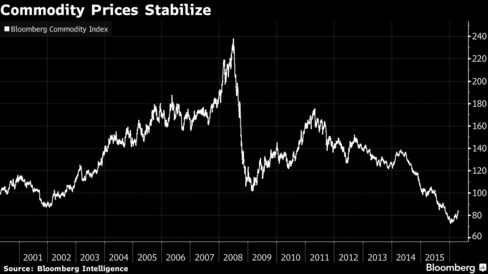 China's stimulus and housing recovery have helped lift global commodities, supporting domestic producer prices. With oil prices expected to rise next year, Chinese producer prices will fall 2.9 percent this year then rise 2.3 percent next year and 3 percent in 2018, said Rajiv Biswas, Asia-Pacific chief economist at IHS Global Insight in Singapore.
A four-year slowdown in the pace of manufacturing investment also is helping underpin a recovery in producer prices, says Hu. Growth in fixed-asset investment in manufacturing fell to 6.4 percent in the first quarter, the lowest in data going back more than a decade and down from 29.2 percent for the same period five years ago.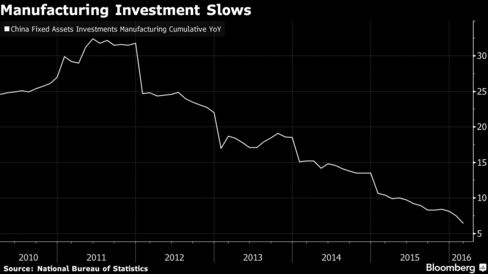 A sustained rise in credit could drag on the pace of recovering factory prices by adding to excess industrial capacity. That overcapacity was the underlying driver of producer-price deflation since 2012 and needs to be addressed via structural reforms, Pang said.
An index for prices charged for goods and services compiled by World Economics also increased in April. "This suggests that China's sustained period of low inflation may be coming to an end," the London-based company said in a report.
"The trend is telling me that it's about to break through to positive growth after a long period of declines," Chief Executive Ed Jones said.
— With assistance by Kevin Hamlin
Before it's here, it's on the Bloomberg Terminal.
LEARN MORE