Teck Resources Posts Surprise Adjusted Profit as Costs Fall
Steelmaking coal costs fell 9.4% from a year earlier

Profit rose to C$94 million from C$68 million a year ago
Teck Resources Ltd. reported first-quarter results that beat analysts' estimates as Canada's largest diversified miner cut costs to offset the impact of lower commodity prices.
Profit attributable to shareholders was C$94 million ($74 million) compared with C$68 million a year earlier, the Vancouver-based company said Tuesday in a statement. Excluding one-time items, Teck posted earnings of 3 Canadian cents a share, beating the 3-cent loss estimated by 19 analysts tracked by Bloomberg.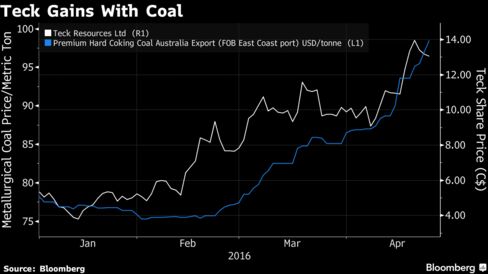 Steelmaking coal unit costs, including transportation charges, fell 9.4 percent in the first quarter from a year earlier, to C$77 a metric ton, while copper cash-unit costs after by-product credits declined 16 percent to $1.29 per pound.
"Our operations performed well by reducing our costs while maintaining production volumes," Chief Executive Officer Don Lindsay said in the statement. "Notwithstanding that the commodity cycle continues to be challenging, we are encouraged by the change in direction in steelmaking coal and zinc prices."
Teck shares in New York were little change before the start of regular trading Tuesday.
The company's stock has more than doubled this year and may climb further if zinc and metallurgical-coal prices continue to strengthen, according to Jeremy Sussman, an analyst at Clarksons Platou Securities Inc.
"They beat on coal volumes pretty big and they basically beat on costs across the board," Sussman said by phone. "No updates really to guide us other than probably a better-than-expected coal sales number. But it's pretty hard to argue with the quarter."
Coal Outlook
Teck reached agreements with the majority of its steelmaking coal customers for the second quarter of 2016 based on a quarterly benchmark price of $84 per ton for its highest quality product, the company said. It expects total steelmaking coal sales in the second quarter, including spot sales, to be at least 6.5 million tons.
While metallurgical coal prices gained 11 percent in the first quarter, they were still down on average 27 percent in the period compared with a year earlier. The benchmark price has increased 14 percent since April 1. Coal was the company's biggest product by revenue last year at 37 percent, followed by zinc at 34 percent and copper at 29 percent.
"Teck is one of the only ways to play met coal at this point with several of the U.S. met coal producers in bankruptcy," Garrett Nelson, an analyst with BB&T Capital Markets, said by phone from Richmond, Virginia, before the earnings were released. "They have very high earnings sensitivity to small changes in both zinc and met coal prices."
(The company scheduled a conference call to discuss its results for 11 a.m. New York time at +1-416-340-2216 or +1-866-225-0198. No pass code is required.)
Before it's here, it's on the Bloomberg Terminal.
LEARN MORE