Poland Gives Coal Miner Lifeline With State Utilities' Cash
PGE, Energa and PGNiG each invest 500 million zloty in coal

Rescue may not be enough to prop up coal producer: analysts
Poland's government sealed a restructuring deal for its loss-making coal-mining industry with cash injections from state-owned power producers, cementing efforts to keep the country's $545 billion economy running on the black fuel.
The deal is centered on a 1.5 billion zloty ($388 million) injection from PGE SA, Energa SA and PGNiG SA to help the European Union's largest coal producer gain profitability within two years after a record loss in 2015. Five banks, including units of Banco Santander SA and BNP Paribas SA, also signed the deal in Katowice, southern Poland, to give the new company, to be renamed Polska Grupa Gornicza Sp. z o.o., financing options.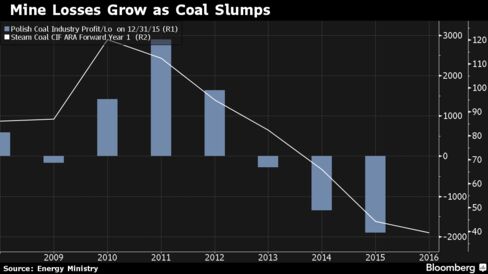 Poland's Law & Justice party won last year's elections after promising the unionized coal industry that it won't close mines and treat the dirty fuel as the guarantor of the country's energy security, setting a collision course against the EU's climate policy aimed at reducing carbon emissions. Analysts at Haitong Bank SA and Bank Zachodni WBK SA said the Warsaw-listed utilities involved in the deal face the risk of more costs unless coal prices, which plunged to multi-year lows in 2016, extend a recent rebound.
"Without an increase in coal prices, this won't be enough to turn the corner," Pawel Puchalski, an analyst at Bank Zachodni in Warsaw, said by phone on April 25. The cost cuts agreed to by the mining industry as part of the agreement aren't big enough, while utilities may be under pressure to sign unfavorable supply contracts with government-run mines, he said.
A total capital increase will amount to 2.42 billion zloty, the companies said in a joint statement. As part of the refinancing of the coal miner, lenders and state coal trader Weglokoks SA will also buy PGG bonds for around 1 billion zloty, which the battered producer will start paying back in 2019.
First Step
An index of Warsaw-listed energy companies has lost 32 percent of its value since Law & Justice candidate Andrzej Duda won the Polish presidency in May, compared with a 24 percent drop by the main WIG20 gauge. PGE has declined 34 percent in the period, Energa 46 percent and PGNiG, which is also the country's biggest gas producer, 20 percent. Shares didn't react to the well-flagged announcement on Tuesday.
Poland relies on coal for about 90 percent of its electricity generation and Prime Minister Beata Szydlo, a miner's daughter from southern Poland, pledged to keep the country of 38 million dependent on coal for decades to come. Law & Justice is also changing rules to make it harder to build wind farms in Poland, seeking to use some of the subsidies available for renewable energy to boost the effectiveness of its coal industry.
"I would like to thank miners for showing real responsibility and understanding of this difficult situation," Szydlo told reporters in Katowice. "This agreement is the start of the road to solve all of this region's problems."
One-Off Payment?
Kompania Weglowa SA, the miner that will be renamed Polska Grupa Gornicza, has liabilities and provisions reaching 8.5 billion zloty and said it has no more assets to use as collateral. PGG will save about 230 million zloty a year by suspending some bonuses, as agreed with the government. All three utilities said in regulator statements last month that they will invest in coal only if given assurances that they won't need to pour more cash in for at least a decade. The capital committed by the companies will be enough, Energy Minister Krzysztof Tchorzewski pledged in an interview with TVP Info on April 22.
"Money that would be pumped into the new company by PGE, PGNiG and Energa may only be a cash lifeline for the current year," Haitong's Warsaw-based analyst Robert Maj said by phone on April 20. "So far we did not see any reasonable plan which would make us believe that this is a one-off payment."
Before it's here, it's on the Bloomberg Terminal.
LEARN MORE