K-Pop Giant's Cinema Unit Mulls Stake Sales to Fund Growth
CJ CGV considering IPO of overseas units, executive says

Korean company seeking to quadruple number of screens by 2020
South Korea's CJ CGV Co. is considering selling stakes in some of its units, including one in China, to help fund its ambitions of turning into one of the world's biggest operators of movie theaters, according to an executive.
The company is part of the family-run CJ Group, which has businesses ranging from food to K-pop bands and films. CGV is considering initial public offerings of overseas units or bringing in a strategic investor, Executive Vice President Byung-Hwan Choi said in an interview this month in Las Vegas. He didn't say when the company would make a decision on the possibilities.
Proceeds from any such sales would help Asia's second-largest cinema operator pursue a goal of quadrupling its number of movie screens to 10,000 across a dozen markets by the end of the decade and challenge China's Dalian Wanda Group Co. as the global leader in the industry. As part of those efforts, CGV earlier this month led a group of investors that agreed to buy Turkey's largest movie-theater chain operator and the company has expressed interest in the U.K.'s Odeon & UCI Cinemas Group.
In a separate statement, CGV Chief Executive Officer Seo Jung said that the company would raise consider raising funds externally "within the range of financial soundness."
CGV shares rose 4.1 percent to 113,500 won, the highest close in more than a month, in Seoul, while Korea's benchmark Kospi stock index slipped 0.1 percent.
Wanda Group, the conglomerate headed by billionaire Wang Jianlin, will be the first company in the industry to operate more than 10,000 screens after its AMC Entertainment Holdings Inc. completes the purchase of Carmike Cinemas Inc., according to screen data from the industry's largest cinema operators.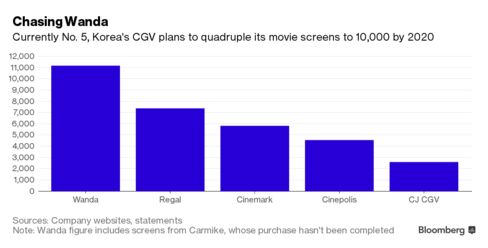 The 605 million-euro ($683 million) deal to invest in Mars Entertainment Group, operator of the Cinemaximum theaters, will help CGV expand into Turkey after making forays into China, the U.S., Vietnam, Indonesia and Myanmar. Choi said CGV sees "great potential" with Mars, and the unprofitable Turkish company will probably turn around in two to three years.
Choi is also CEO of CJ 4DPLEX, which developed the technology used in 4DX theaters that feature moving seats, scents and wind to complement films.
CGV will prioritize on expanding in East Asian markets, though the company is also looking at India, Choi said. He ruled out acquisitions in China, the second-largest movie market and Wanda's home turf, because valuations for assets in the country are too high, he said.
Before it's here, it's on the Bloomberg Terminal.
LEARN MORE