Schaeuble Sees No Greece Debt Relief as Long as Debt Sustainable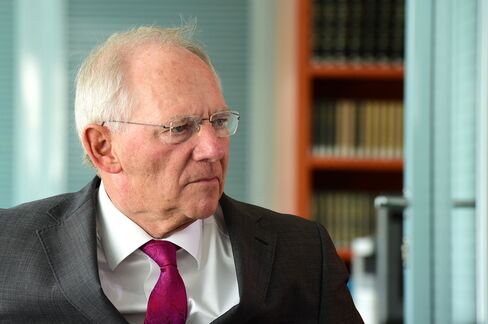 Agreed budget target for 2018 `appears possible:' Schaeuble

`No desire' to repeat last year's Greece-EU standoff
German Finance Minister Wolfgang Schaeuble said Greece doesn't need debt relief now and won't require an easing of its debt burden as long as the troika of creditors determines that debt sustainability is ensured.
The European Stability Mechanism, the euro region's financial backstop, will seek to lock in the favorable refinancing costs it's passing on to Greece for an extended period of time, Schaeuble said in Amsterdam. While not part of the Greek program, these operations -- if in place -- would help ease pressure on Greece, he said.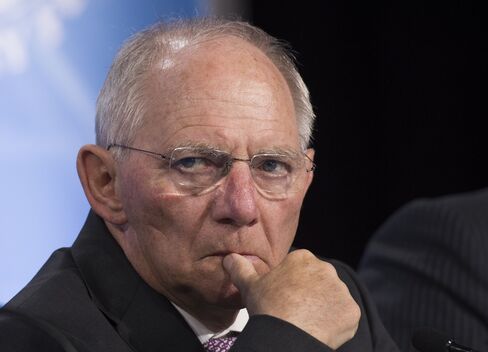 "The debt sustainability analysis determines whether measures are needed" to help the cash-strapped country, Schaeuble told reporters after a two-day meeting of European Union finance ministers. "It is my conviction that this is not necessary for the coming years."
Greece's government bonds rose for a third day on Friday after euro-area finance ministers and the International Monetary Fund signaled that a deal on the nation's next bailout installment is in sight. Schaeuble said "we have no desire" to repeat the confrontation between Greece and its creditors from last summer.
The nation's government submitted a bill to parliament on Friday evening, overhauling the Greek pension system and raising income tax for middle and high earners. The bill, which also raises taxation on gambling and dividends, is part of a 5.4 billion-euro ($6.1 billion) belt-tightening package required by creditors for the conclusion of the bailout review.
The government still has to negotiate with representatives of creditor institutions a set of contingency measures equal to 2 percent of Greek gross domestic product, which will only be triggered if it fails to meet its budget targets.
An agreement on the bailout package and the target for Greece to reach a primary surplus of 3.5 percent of GDP by 2018 "appear possible," Schaeuble said.
Before it's here, it's on the Bloomberg Terminal.
LEARN MORE