President's nomination to signal desire to fight corruption

U.S. says issue will determine continued flow of financial aid
The search for a new prime minister dominated headlines in Ukraine for weeks. But another personnel change is probably a more important indicator of where the country, Europe's worst-ranked in global corruption indexes, is headed.
President Petro Poroshenko, who's seen protege Volodymyr Hroisman take over as premier, must pick his third top prosecutor in two years after ditching ally Viktor Shokin for failing to deliver high-level corruption convictions. Reviled by voters and criticized by foreign donors, Shokin became an emblem of stalled reforms in the wake of demonstrations that ousted Ukraine's Kremlin-backed leader in 2014.
The protesters' demands for European levels of transparency in a nation plagued by graft for decades haven't been met. The former Soviet republic's corruption ranking has barely moved, reformers have left alleging graft among ruling-party officials and Poroshenko himself featured in the so-called Panama Papers. While the new government can restart Ukraine's $17.5 billion bailout, the power the chief prosecutor wields makes that position the best signal of how serious politicians are on corruption. The appointment will also determine the longer-term flow of financial aid from countries including the U.S.
"It doesn't matter who's prime minister," said Yehor Sobolev, a member of the Samopomich party that quit the ruling coalition and campaigned to have Shokin fired. "He won't be able to do anything without a strong, independent prosecutor general."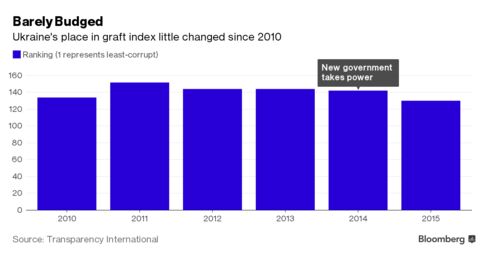 While Ukraine's leaders have stabilized the budget and overcome a recession, their record on tackling graft is less impressive. The country ranks 130th in Transparency International's Corruption Perceptions Index, almost exactly where it was in 2010. No one's been convicted over the billions of dollars Ukraine's post-revolution leaders say the old regime stole. The same applies to the 2014 killing of more than 100 demonstrators.
Lifting the lid on tycoons' enduring sway over the government, Lithuanian-born Aivaras Abromavicius quit as economy minister in February, alleging pressure from lawmakers. His departure prompted an exodus that brought down the ruling coalition and eventually Shokin, though not before he fired his last reform-minded deputy, allowing a loyal one to take acting charge. Officials who left, decrying the old guard, have since faced probes, as have some anti-graft organizations.
'Vigorous Reform'
Another deputy head, Yurii Stoliarchuk, is among candidates to take over permanently. He's joined by Yuriy Lutsenko, who heads Poroshenko's party in parliament. While he doesn't have the necessary experience or a law degree, a bill designed to ease those requirements has been registered by the president's party. Poroshenko has at least four candidates for the post, Lutsenko said late Thursday.
The next prosecutor should have a background as a lawyer, according to European Union Enlargement Commissioner Johannes Hahn. "The population needs a clear sign of commitment to vigorous reform and to end past practice," he said Thursday in Kiev.
Geoffrey Pyatt, the U.S. ambassador to Kiev, says picking a new prosecutor general backed by the Ukrainian people, parliament and civil society is essential to future aid, such as a planned a $1 billion loan guarantee. Poroshenko has promised to appoint a "highly professional, responsible, well-trusted prosecutor general" who can "trigger a new page in Ukraine's anti-corruption policy." He said Thursday in Bucharest that Ukraine's efforts to date to tackle corruption had been "quite efficient."
Cash, Diamonds
Selecting a suitable replacement isn't enough, according to Vitaliy Kasko, a former deputy prosecutor general who quit shortly after Abromavicius. Having helped detain two colleagues last year in possession of diamonds and more than $500,000 in cash, he's now under investigation for embezzlement. He denies that allegation, while the prosecutors he had investigated have since been released on bail and their trial repeatedly postponed.
"The prosecutor's office isn't independent -- it's under huge external influence," Kasko said. "The office is in such a bad state that even if we have a good prosecutor general, it will be very hard for him to work. The only way is to start from scratch."
Another critic of Ukraine's prosecutors, the Anti-Corruption Action Center, recently had its office in Kiev searched over U.S. funding. Stoliarchuk also said Pyatt may be questioned.
'A Monster'
Daria Kalenyuk, the center's executive director, calls the prosecutors office "a monster inherited from Soviet times," and has little hope it will be revamped to attack the old system. "The president will do his best so the new prosecutor general is loyal to him and controlled by him."
Poroshenko may struggle to install an ally this time round, according to Joerg Forbrig, senior program director at the German Marshall Fund of the U.S. in Berlin. The rise in civil-society groups such as the Anti-Corruption Action Center is pushing politicians toward a choice between superficial reforms and a reboot of the entire system, he said.
"The appointment of the new prosecutor general will signal whether or not Ukrainian elites have finally opted for such real change," Forbrig said.
Before it's here, it's on the Bloomberg Terminal.
LEARN MORE