India's First Insurance IPO Paves Way for $50 Billion Industry
HDFC to sell stake in insurance venture with Standard Life

ICICI, State Bank tipped to seek insurance unit listings
India will get its first life-insurance listing since it opened up to private-sector investors 16 years ago, paving the way for more companies seeking to go public in an industry that's since grown to more than $50 billion.
Housing Development Finance Corp., the nation's largest mortgage lender, will offer as much as a 10 percent stake in its insurance venture with U.K.'s Standard Life Plc, HDFC said in a filing April 19. The stake may be valued at about 20 billion rupees ($302 million) based on the sale this month of a holding by HDFC to its foreign partner.
The listing marks a milestone after India's parliament cleared a hurdle when it voted last year to increase the amount foreign investors can own in the nation's insurers to 49 percent from 26 percent, passing a bill stalled since 2008 because of disagreement among political parties. The insurance regulator also required life insurers to be operational for 10 years before they could sell shares.
While majority ownership and control in the joint ventures will remain with resident Indians, the bill allows overseas companies to expand their presence in the world's second-most populous country. As many as seven companies may list their insurance units over the next few years, Prithvi Haldea, chairman of researcher Prime Database in New Delhi, said. The share offerings could range from 10 billion rupees to 20 billion rupees, Haldea estimates.
'Interesting Space'
"Its a very interesting space to watch; it's a big industry," Haldea said. "There will be huge appetite and investor interest for these companies. How they perform post listing will decide the fate of the immediate future of insurance IPOs lining up."
Companies that may seek to list their insurance arms include State Bank of India, the country's largest lender and ICICI Bank Ltd., the largest private-sector lender by assets, according to earlier announcements by the banks.
Standard Life, which increased its holding to 35 percent from 26 percent, will not divest its stake in the initial public offering, the Edinburgh-based insurer said in a statement. Standard Life paid HDFC 17.05 billion rupees for a 9 percent stake in a transaction completed this month, valuing the life insurance unit at 185 billion rupees.
India's life insurance industry is worth about $50 billion, while general insurance is valued at about $13 billion, according to KPMG. The industry could get as much as $5 billion of fresh capital from primary and secondary sales, Mumbai-based Shashwat Sharma, partner for financial services at KPMG estimates.
"We've seen Indian shareholders diluting their stakes at a premium to foreign shareholders," Sharma said in a phone interview. "The real benefit will be if money comes to insurance companies rather than exchanging hands between shareholders."
Foreign insurers that have raised stakes in their Indian ventures after the government eased rules in March last year include HSBC Insurance Holdings Ltd., which announced that it increased its interest in its venture with Canara Bank, and Bupa Plc, which said it increased its holding in Max Bupa Health Insurance Co.
In 2015, ICICI Bank sold a 6 percent stake in its life insurance venture to the family office of billionaire Azim Premji and a subsidiary of Singapore's Temasek Holdings Pte, valuing ICICI Prudential Life Insurance Co. at 325 billion rupees. It also sold a 9 percent stake in its general insurance unit to Toronto-based Fairfax Financial Holdings Ltd., valuing the company at 172.25 billion rupees.
The increase in limits allows foreign companies to expand in a nation where insurance penetration is less than the global average. India's premiums underwritten as a proportion of a country's total economic output stood at 3.9 percent in 2013, less than 6.3 percent worldwide average, according to Minister of State for Finance Jayant Sinha.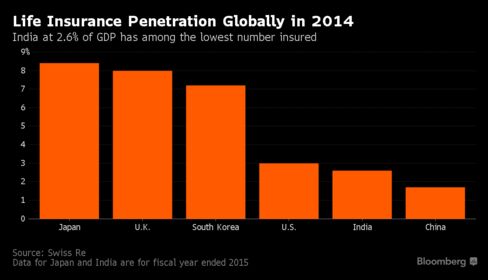 Despite the low penetration, rapid growth has resulted in India becoming the 11th largest insurance market globally and the fifth largest in Asia as of March 2015, according to IIFL Ltd., a Mumbai-based financial services firm.
"Listings were in the offing, it was a question of timing," said Sampath Kumar, an analyst at IIFL. "Sponsors have made it clear that they like to list their insurance ventures and unlock value."
Before it's here, it's on the Bloomberg Terminal.
LEARN MORE