Canadian Lumber Producers Tumble Amid Slow U.S. Housing Recovery
Disappointing construction data means lumber prices may slump

West Fraser, Canfor likely to report lowest profit in 4 years
West Fraser Timber Co. and Canfor Corp., Canada's largest lumber producers, are suffering from tepid demand in the U.S. where the recovery in the housing market is stuttering.
U.S. housing starts fell a more-than-expected 8.8 percent last month, the Commerce Department said April 19. Housing demand isn't strong enough to support lumber prices at current levels, according to Stephen Atkinson, an analyst at Dundee Capital Markets.
"This is a pretty slow recovery we're seeing," Joshua Zaret, a Bloomberg Intelligence analyst in New York, said in a telephone interview. "Lumber buyers have been cautious."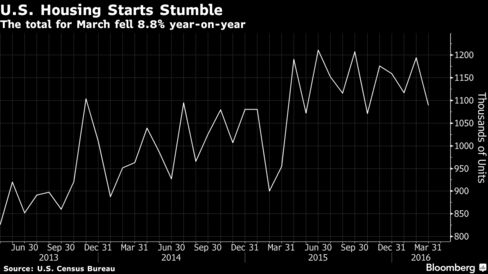 The U.S. is the largest market for Vancouver-based Canfor and West Fraser, which manage timberlands in British Columbia that supply softwood such as Spruce-Pine-Fir, a widely used material used to construct house walls and roofs. The dim outlook for demand south of the border is the latest blow for Canadian producers, who are already facing a slowdown in Chinese demand and the long-term impact of the mountain pine beetle on British Columbia forests.
West Fraser, the largest North American lumber producer, has fallen 19 percent this year in Toronto. Canfor has slumped 26 percent, the sixth-worst performance on the 235-member S&P/Toronto Stock Exchange Composite Index.
Land Supply
Canfor declined to comment while West Fraser didn't respond to requests seeking comment on the outlook for lumber. Both Canfor and West Fraser report first-quarter earnings next week and are likely to post their lowest net income in four years, according to analysts' estimates compiled by Bloomberg.
Speaking on the company's last earnings conference call in February, Canfor Chief Executive Officer Don Kayne said the company expected to see as much as 8 percent growth in U.S. demand for 2016 due to the "slow, but steady" improvements in housing. Chris McIver, vice president of West Fraser's sales and marketing, struck a more cautious note on his company's earnings call the same month, saying the housing recovery was disappointing.
While the U.S. housing market has made gains in the past few years, there's a limited supply of available land and prices have risen faster than wages, making it harder for some Americans to buy. Confidence among U.S. home builders was little changed in April, a sign the housing market lacks momentum amid spring selling, according to the National Association of Home Builders/Wells Fargo builder sentiment index.
Fewer Permits
Residential housing starts in March decreased to an annualized rate of 1.09 million, the lowest since October, worse than any of the estimates from economists surveyed beforehand by Bloomberg. A more "normal" rate would be closer to 1.5 million, according to Bloomberg Intelligence's Zaret. The issuance of private housing permits, a proxy for future construction, also dropped last month.
"Demand is there but you need to have sites, you need to have employment, and now the buyers are complaining the price is too high," Dundee's Atkinson said in an April 15 telephone interview. He cut his rating on Canfor and West Fraser to neutral from buy earlier this month, citing an expected decline in lumber prices as production catches up with demand.
That cautious outlook helps to explain why the rally this year in lumber futures hasn't had much of a positive impact on producers' stock prices. Lumber for May delivery closed at $282 per 1,000 board feet in Chicago on Thursday, capping a 10 percent rally for 2016.
Trade Case?
The lumber market will probably remain volatile during the rest of this year because Canadian producers may be hit with countervailing duties, said Kevin Mason, managing director of Vancouver-based ERA Forest Products Research. The 2006 Softwood Lumber Agreement between the two nations expired last fall and Canada and the U.S. have until October to iron out a new accord, after which American companies can file trade cases against Canadian imports.
Mason points out that Canadian producers may see a strengthening loonie crimping profits. The weakness in China isn't helping either, Zaret said in an April 13 report.
"I'm concerned that the housing demand is not strong enough to keep pricing high throughout the year," Atkinson said.
Before it's here, it's on the Bloomberg Terminal.
LEARN MORE