New budget rule proposes linking spending to $40-$50 oil price

Finance minister warns budget is source of risks for inflation
For a country whose management of its oil wealth a central banker once described as being "in the middle between Norway and Nigeria," Russia seems to have made up its mind.
The world's biggest energy exporter is looking to the Nordic country with a proposed budget mechanism that would prevent the government from spending surplus revenue above a pre-set oil price. The crude-price cutoff would be in the range of about $40 to $50 a barrel, and income received above that will be stowed away in reserves, Finance Minister Anton Siluanov said in Moscow on Wednesday.
The revamp is among the most far-reaching steps by Russia to pry the economy out of its addiction to energy and insulate it from the ups and downs in crude prices. When the Bank of Russia shifted to a free-floating exchange rate in late 2014, the ruble became hostage to oil like never before. Without interventions to smooth its swings, the correlation between the currency of the world's biggest energy exporter and a barrel of crude reached a record last week.
"The Russian government is following Norway's example and weakening the correlation between oil and the economy," said Oleg Popov, a money manager who oversees $300 million of assets at April Capital in Moscow.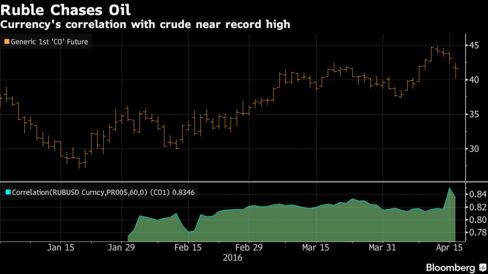 Ruble, Oil
The ruble has already surged 27 percent in the past three months as oil rebounded, the best performer globally. It's appreciated more than 13 percent against the dollar this year after a 20 percent loss in 2015. The Russian currency traded 0.3 percent stronger at 64.97 against the dollar as of 10:33 a.m. in Moscow.
Three-month implied volatility, a measure of exchange-rate swings used to price options, is the world's second-highest after Argentina's peso, suggesting investors anticipate strong ruble price fluctuations will persist, data compiled by Bloomberg show.
Nations from Saudi Arabia to Canada are retooling their economies after the worst oil crash in a generation as efforts falter to stabilize the global market. Russia, its finances reeling after crude fell to a 13-year low in January, is revisiting a fiscal mechanism suspended this year that capped spending based on a backward-looking average for oil.
Norwegian Way
Norway has used its energy income to build the world's biggest wealth fund and is tapping it for the first time this year. Diverting its surplus revenue from oil and gas, Norway invested the money abroad to avoid stoking the domestic economy. Russia has looked to its neighbor before when it created a forerunner to its two sovereign wealth coffers more than a decade ago.
The new approach in Russia has the backing of the central bank, which has warned that the budget is emerging as a major risk for inflation. The proposal will be submitted for government discussion this fall, according to Siluanov. Authorities are also seeking fiscal savings of one percentage point of gross domestic product a year, he said.
"Without a budget consolidation, the economy will slide toward its pre-crisis state, dominated only by commodities and export-oriented industries," Siluanov said Wednesday at his ministry's annual meeting.
Recession, Deficit
As the economy endures its second year of recession, Russia is running the widest deficit since 2010. The government scrapped the previous budget rule for 2016 because applying it would have forced it to draft this year's budget based on an average oil price above $80 a barrel.
"The situation with the budget is catastrophic, that's why the government needs a weak and stable ruble," said Alexei Egorov, an analyst at Moscow-based Promsvyazbank PJSC. "You can't influence the ruble through interest rates in Russia because the economy isn't developed enough yet."
Rollercoaster swings in the ruble after a failure by oil producing nations to broker an output freeze at a weekend summit in Doha showed how vulnerable Russia remains to turmoil in the energy market.
Under current projections, the government is on course to run a deficit of 3.4 percent of GDP in 2016, exceeding its 3 percent target, First Deputy Finance Minister Tatiana Nesterenko told reporters on Wednesday. It reached 2.4 percent last year.
Record Correlation
Oil and natural gas account for about a third of Russia's budget revenue and almost 60 percent of its exports. The 60-day correlation between the ruble and Brent crude reached a record 0.85 on Friday and traded at 0.82 on Thursday. A value of 1 would mean the assets are moving in lockstep.
Should oil prices rise to $60 to $70 a barrel, Russia is at risk of "serious" gains in the ruble's real exchange rate if no fiscal consolidation is undertaken, according to Siluanov. That would erode the competitiveness of the nation's companies, he said.
"It's impossible to cope with managing the real exchange rate using only the instruments of the central bank," Siluanov said.
Under the new rule, the Bank of Russia would purchase foreign currency on the market for the wealth funds.
Rate setters don't see the proposed budget rule as a threat to their free float, First Deputy Governor Ksenia Yudaeva said on Tuesday. The approach will reduce uncertainty without undermining the central bank's policy framework, according to Oleg Kouzmin, an economist at Renaissance Capital in Moscow.
"Monetary authorities would not be targeting any particular exchange rate level," said Kouzmin, who's also a former central bank adviser. It's "a more formal mechanism to tame ruble appreciation at higher oil prices but no more than that."
Before it's here, it's on the Bloomberg Terminal.
LEARN MORE