EU Welcomes Turkey Refugee Pact as Libya Deaths Show New Risks
500 feared dead as migrant boat sinks in Mediterranean: UN

Arrivals in Greece from Turkey more than halved in March
The European Union touted its accord with Turkey to stem the influx of refugees as the threat of human traffickers switching routes was underlined by a United Nations report that 500 migrants traveling between Libya and Italy may have drowned.
The March 18 agreement, under which irregular migrants who enter the EU in Greece are sent back to Turkey and Syrian refugees in Turkish camps are resettled in Europe, is meant to discourage people smuggling and dangerous sea crossings. So far, 325 irregular migrants -- including two Syrians -- have been sent to Turkey from Greece and 103 Syrian refugees on Turkish soil have been resettled in the EU, the European Commission said on Wednesday in Brussels.
In the central Mediterranean Sea, an unidentified vessel sank last week while taking on passengers who had been traveling on a smaller boat, the UN Refugee Agency said in an e-mailed statement. As the EU considers moving a fleet closer to Libya's coast to confront any increase in migrants traveling to Europe through the central Mediterranean route, the commission said the agreement with Turkey is helping to shut down flows across the eastern Mediterranean.
"The message is starting to get through that turning to smugglers is the wrong choice to make," Frans Timmermans, the commission's principal vice president, said in a statement.
The combination of the EU-Turkey deal and the stranding of Mideast refugees in Greece as a result of the reintroduction of national border checks along the Balkans migrant route to northern Europe has caused Aegean Sea crossings to Greek islands from the Turkish coast to slump. The number of refugees arriving in Greece by sea more than halved to 26,971 in March from February and fell further to 2,257 in the first 17 days of April, according to the United Nations.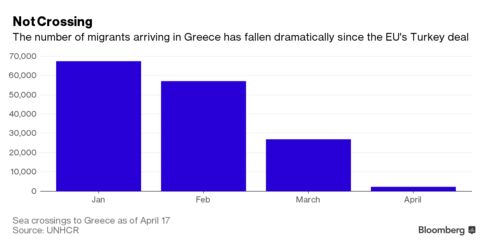 "We have seen a sharp decrease in irregular arrivals, which now needs to go hand-in- hand with opening up the legal channel of resettlement to those in need of protection," Timmermans said.
As the EU gets control of migrant arrivals from Turkey that number around 1 million since early 2015 and represent Europe's biggest refugee wave since World War II, the bloc is warning about the possibility that human traffickers will begin sending hordes of people in war-torn Libya to Europe.
EU President Donald Tusk last week cited "alarming" numbers of potential migrants in Libya. Italy, which would be the EU entry point for many of those people, called over the weekend for more European cooperation on the matter.
Before it's here, it's on the Bloomberg Terminal.
LEARN MORE