Quakes May Sway Japan's Abe to Boost Spending, Delay Tax Hike
Former BOJ director says snap general election less likely

`We will take all necessary measures,' Abe tells parliament
A deadly series of large earthquakes in southern Japan may add to the case for Prime Minister Shinzo Abe to increase fiscal stimulus and postpone a planned increase in the nation's sales tax.
Abe has said only an economic shock on the scale of the 2008 global financial crisis or the 2011 quake and tsunami in the country's northeast would justify delaying the levy hike. Even before this latest disaster, advisers and influential economists had been calling on to Abe hold off raising the tax.
The quakes and scores of aftershocks, centered on Kumamoto prefecture, have killed at least 42 people and left more than 1,000 injured. About 105,000 people have been evacuated to shelters. Abe hinted Monday at compiling a stimulus package. The damage to the area may also affect his thinking on whether to call a snap general election this summer to coincide with a poll for the upper house.
Barclays Plc economists Kyohei Morita and Yuichiro Nagai wrote in an e-mailed note that Abe might now decide to postpone the consumption tax hike without holding a "double election."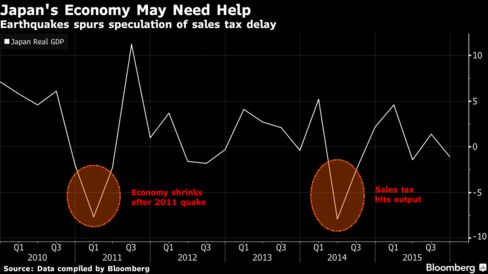 "Expectations were growing that the sales tax increase will be delayed, but the Kumamoto earthquake made it even more likely that the government would have to do so," said Naomi Muguruma, a senior market economist at Mitsubishi UFJ Morgan Stanley Securities Co. in Tokyo. "Rating companies will base their assessment on whether the delay will be just by one year, or will be completely scrapped, but they will likely review for a possible downgrade."
Double Election
Hideo Hayakawa, a former executive director at the Bank of Japan, said in an interview Monday that the disaster makes a double election more unlikely as the affected areas will still be in chaos. The quakes may make hasten the compilation of an extra budget, he said.
"We will take all necessary measures," Abe said in parliament Monday in response to a question about the possibility of an extra budget. The premier said he'd consider speeding up the transfer of tax revenues to local governments and using surplus budget funds.
---

Two major earthquakes hit southern Japan in less than two days
---
Political analyst Harumi Arima said the government will compile a large budget to aid the recovery in Kumamoto, as well as for "national resilience" measures to better prepare the quake-prone nation for disasters.
Market Reaction
Debt market reaction to the quakes was limited, with the cost of protecting against a sovereign default in Japan falling to 42 basis points on Friday, the lowest since October, according to CMA prices.
"The market had already factored in a large-scale extra budget even before the earthquake, and it's unlikely the budget will increase a lot," said Toru Suehiro, senior market economist at Mizuho Securities Co. in Tokyo.
The Kumamoto region was already facing a downturn in business sentiment, including the tourist industry, according to data from the central bank. Now, it is being suggested that insured losses from the quakes may exceed $7 billion.
Toyota Motor Corp.'s operating profit may be reduced by about 30 billion yen ($277 million) for the current quarter, according to Koichi Sugimoto, a Tokyo-based analyst at Mitsubishi UFJ Morgan Stanley.
Some of Abe's confidants have been calling for stimulus and a postponement of the tax increase for months. Ruling Liberal Democratic Party lawmaker Kozo Yamamoto, one of the prime minister's group of pro-reflation advisers, called last week for a 10 trillion yen fiscal package.
Nomura Holdings Inc. analysts wrote Sunday that while the scale of the damage is still unclear, the disaster is not on the same scale as the one that took place in 2011. Even so, the brokerage pointed to damage to supply chains in industries from automobiles to electronics.
Before it's here, it's on the Bloomberg Terminal.
LEARN MORE