Philippine Presidential Hopeful Won't Apologize for Rape Remarks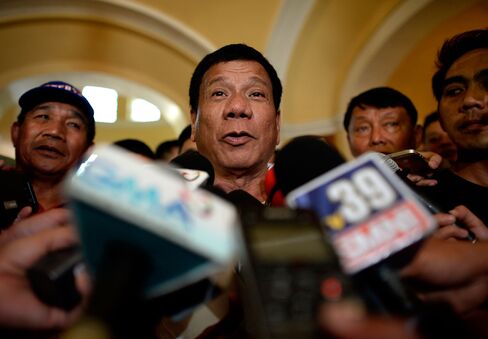 Frontrunner Duterte says comments about case were not a joke

Other candidates say comments are distasteful, unacceptable
Philippine presidential frontrunner Rodrigo Duterte said he will not apologize for remarks he made over the 1989 rape and murder of an Australian missionary in a Davao prison.
"I am even willing to lose the presidency," Duterte said in a video posted on his official YouTube page Sunday, after footage of him talking about the case on April 12 at a campaign event sparked uproar on social media.
With the presidential campaign entering its final weeks before the May 9 election, Duterte's remarks may yet erode his lead in opinion polls in the strongly Catholic nation. The comments received front-page coverage in major local papers and other candidates criticized him, saying he was unfit for the presidency.
The footage shows Duterte addressing a crowd in a city near Manila, describing how a "very beautiful" Australian missionary was killed during a 1989 prison riot after several inmates lined up to rape her. As the mayor, he should have been first, Duterte was heard saying in Tagalog, the local language, to cheers from the local crowd.
"It was in the gutter language," said Duterte, the crime-busting mayor of Davao for two decades. "I was very angry when I said that. That's how men are. I'm sorry if others didn't like it. It wasn't a joke," he told reporters in comments posted on his YouTube page on Sunday.
Opinion Polls
Duterte led opinion polls conducted by Pulse Asia Research Inc. and Social Weather Stations at the end of March to early April, snatching the top spot from Senator Grace Poe.
"What Duterte's opponents are hoping and working on is that his momentum will be dented by his highly scandalous comments since he took the lead in major surveys," said Richard Javad Heydarian, an assistant professor of political science at De La Salle University. "A significant portion of Duterte's vote, however, are composed of highly loyal if not fanatic supporters who will tolerate any behavior by him, no matter how odd, but he may have alienated those who had a close second option."
Rape is a crime and no laughing matter, said Poe. Vice President Jejomar Binay and former interior secretary Mar Roxas said Duterte didn't deserve to be president.
Australian ambassador to the Philippines Amanda Gorely said on Twitter that rape and murder should not be joked about. "Violence against women and girls is unacceptable anytime, anywhere."
Social media users also criticized Duterte for his comments.
'Keep Quiet'
"When a presidential candidate says that he should have been the first to rape a missionary because the victim was beautiful, I cannot keep quiet anymore," Cheryl Arcibal, an overseas absentee Filipino voter, posted on her Facebook feed. "What he says and stands for are against everything I have been taught to value -- humanity, compassion and respect for dignity of life."
"What more does Duterte need to do for his followers to believe he does not deserve the highest post?" comedienne Mae Paner said on Twitter. "Sadly, there are people willing to condone it and turn a blind eye, said Facebook user Magel Basa.
President Benigno Aquino's communications secretary Sonny Coloma said the mayor had confirmed the doubts of those who opposed his candidacy.
"He has not matured nor evolved and that his offer to serve as president truly deserves serious scrutiny," Coloma said. "He makes fun of, and trivializes the rape and killings of a female missionary from a foreign land who was part of a team made up mostly of women and who were doing their part in reforming convicted prison inmates."
Before it's here, it's on the Bloomberg Terminal.
LEARN MORE