Credit Suisse: Germany Is Asking for a Different Kind of Bailout
Germany's savers should save themselves, say the analysts.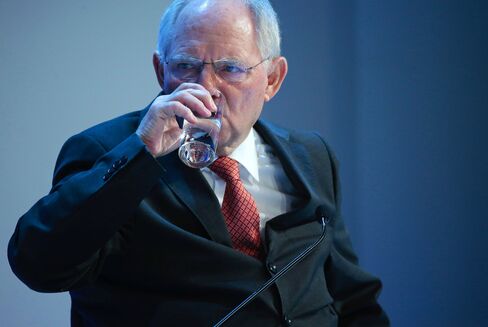 Forget about Greek debt sustainability. Another part of the continent is in need of relief—and this time, it's a part of the core, not the periphery.
That's how Credit Suisse Group AG analysts led by Peter Foley characterized comments from German Finance Minister Wolfgang Schaeuble earlier this month.
"The German Finance minister said record low interest rates were causing 'extraordinary problems' for German financial institutions and pensioners and risked undermining voters' support for European integration," writes Foley. "His words sounded like a request of a bailout for his countries' saving industry and savers, in an ironic twist from previous bailout requests coming from the periphery."
A common criticism of unconventional central bank policy is that the ultra-low interest rates are too onerous for savers. At present, the average German bund yield is barely above zero: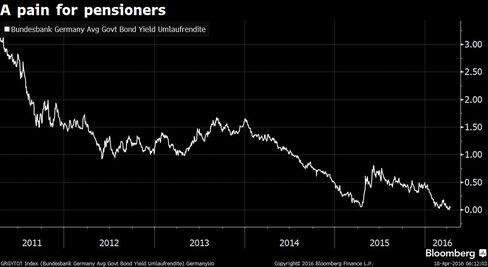 Some analysts have expressed more than a modicum of sympathy for Schaeuble's position, indicating that the ECB's policy represents a form of John Maynard Keynes' prophesied 'euthanasia of the rentier' and is not justified by its positive side effects.
But instead of blaming the ECB, Foley suggests that German fiscal policymakers should pull the levers at their disposal to help remedy this situation.
"Germany has continued to run a large current account surplus, and has increased it further–from 5.7 percent of GDP in 2009 to 8.5 percent in 2015," wrote the analyst, noting that this surplus constituted the largest imbalance among major economies by this metric. "In an environment short on aggregate demand, Germany's surplus is a problem, both globally and to the rest of the euro area."
Foley recommends that the German authorities move to more aggressively reduce financial imbalances by increasing public investment, support private demand in certain soft segments, and implement more structural reforms.
This would support Germany's growth as well as that of its European partners, and as an added bonus, would address Schauble's concerns about the woes of savers all in one fell swoop, the analyst concludes, by lessening the ECB's need to support the currency union with unconventional stimulus.
Before it's here, it's on the Bloomberg Terminal.
LEARN MORE