Death Toll From Southern Japan's Two Earthquakes Rises to 41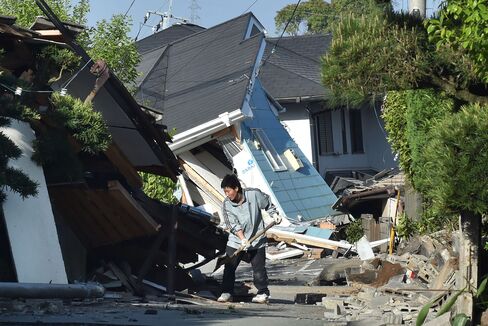 Almost 2,000 injured, NHK reports; 170,000 advised to evacuate

Prime Minister Abe mobilized team of about 20,000 rescuers
The death toll from earthquakes in southern Japan reached 41 after a series of temblors struck Kyushu island overnight, including one more powerful than the quake that hit Kumamoto a day earlier.
A magnitude-7.3 quake occurred at a depth of 12 kilometers (7.5 miles) at 1:25 a.m. local time Saturday in Kumamoto, causing strong vibrations across the island with a population of 13 million people. Almost 2,000 people were injured in the most recent quake, according to Japanese broadcaster NHK.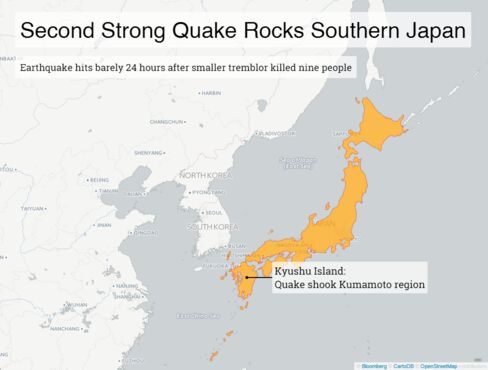 The temblor on Saturday was followed by a series of aftershocks that were almost at the the top of Japan's intensity scale. The shaking was most powerful close to Mt. Aso, an active volcano and popular tourist site. A small eruption was spotted at Mt. Aso after the quake, NHK reported.
Television footage showed houses flattened and landslides that had swallowed up roads and railway lines in the village of Minamiaso. Authorities warned of further damage, with strong rain expected to worsen conditions later Saturday. A tsunami warning was briefly issued after the earthquake, but was lifted less than an hour later.
About 170,000 people have been advised to evacuate, the Kumamoto government said.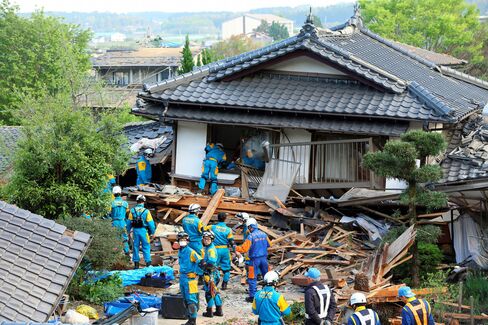 Rescue Efforts
Prime Minister Shinzo Abe has mobilized a team of about 20,000 rescuers comprising self-defense forces, police and firefighters, according to a statement from his office. Abe called for heightened relief efforts before the weather turned unfavorable later Saturday.
There was no impact from the earthquakes on nearby nuclear plants, with Kyushu Electric Power Co.'s Sendai facility, which houses the only operating reactors in Japan, continuing to run. Environment Minister Tamayo Marukawa said the plant doesn't need to be shut down at this point.
An official from the Japan Meteorological Agency speaking on NHK said the initial magnitude 6.4-level event that shook Kumamoto late Thursday night was a foreshock to the overnight earthquake.
Kumamoto airport has been closed after suffering damage, with all 74 domestic and international flights canceled Saturday. More than 200,000 homes were without power, according to Kyushu Electric Power.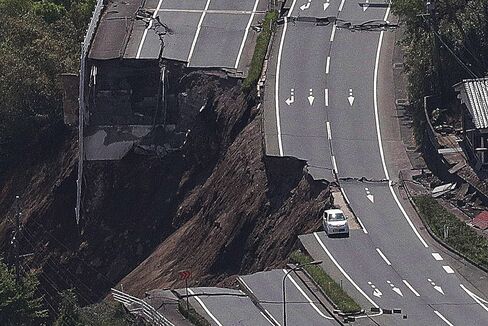 Economic Impact
Chief Cabinet Secretary Yoshihide Suga said at a news conference that significant damage is feared from the latest quakes and the government would do all in its power to assist. He said no damage has been reported to the nuclear power stations in Kagoshima and Saga prefectures. The prime minister's trip to Kumamoto planned for Saturday has been canceled following the new quakes, Suga said.
Speaking in Washington, Bank of Japan Governor Haruhiko Kuroda said he was monitoring the economic impact of the disaster, which he said was hard to estimate.
Some companies extended operational halts following the Saturday earthquake. Sony Corp. halted production of camera chips -- a key component in smartphones such as Apple Inc.'s iPhones, as well as digital cameras -- at its plant in Kumamoto following Thursday's quake. The company also halted some production lines at an image-sensor factory in Nagasaki, west of Kumamoto, and is checking the extent of damage, Mami Imada, a company spokeswoman, said by phone.
Honda Motor Co. is suspending production at its motorcycle plant in Kumamoto through Monday. Nissan Motor Co. stopped production at its plant in Fukuoka after the latest quake and won't operate Saturday as it assesses the impact on the facility and its supply chain. Toyota Motor Corp. had already halted output at three plants in Kyushu before the latest quakes.
Fujifilm Holdings Corp. halted production of electronic-display devices at its Kumamoto plant, according to spokesman Takahiro Taguchi. Nippon Steel & Sumitomo Metal Corp. has suspended some of its facilities in nearby Oita Prefecture for safety checks.
All Nippon Airways Co. and Japan Airlines Co. will cancel all flights in and out of Kumamoto through Sunday, according to the companies.
Nikkei 225 Stock Average futures traded in Osaka extended losses after the latest earthquake, closing down 0.9 percent at 3 a.m. in Tokyo.
Before it's here, it's on the Bloomberg Terminal.
LEARN MORE