Chinese Group Wants to Seal AC Milan Takeover by June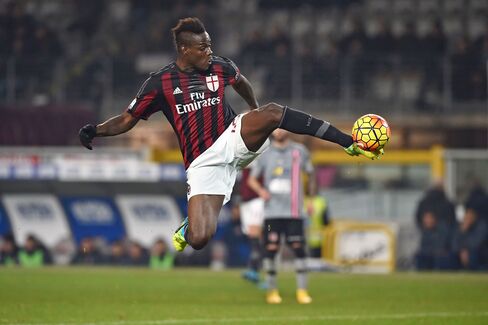 Renewable energy and media investors make up buyer consortium

Chinese consortium pursues deal as Thai negotiations stall
The Chinese investor group pursuing a takeover of the AC Milan soccer club, which is controlled by former Italian Prime Minister Silvio Berlusconi, is targeting a deal by June, people with knowledge of the matter said.
The consortium, whose investors have a background in renewable energy and media, has agreed on most key terms and is seeking a deal in time for the summer transfer season, the people said, asking not to be identified because the talks are confidential. Berlusconi's Fininvest SpA and the Chinese group have already discussed plans to strengthen the squad, and the initial investment would be used to make the team more competitive rather than pay down debt, one of the people said.
Berlusconi, who has owned Milan for 30 years, is seeking a buyer at a low point in the club's history. Once considered soccer royalty, the team is languishing in sixth place in the Italian league and fired its manager on Tuesday. A deal would also mark the second major Chinese investment in a European football club in less than six months, after a group led by China Media Capital Holdings bought a $400 million stake in Manchester City Football Club's owner.
The Chinese consortium is targeting at least a 50 percent stake, which could rise to about 70 percent, one of the people said. The investors are now conducting due diligence on AC Milan's debt as well as player contracts, another person said.
Berlusconi serves as honorary club president, and his daughter, Barbara, joined the board in 2011. The billionaire three-time premier has been in separate talks with Thai investor Bee Taechaubol since at least last year. Bee has been forced to look at new ways of raising financing after an arm of Chinese conglomerate Citic Group Corp. pulled the funding it was going to provide for Bee's bid, according to two people familiar with the matter.
National Plan
Bee, who is chairman of Bangkok-listed Electronics Industry Pcl, remains interested in buying into the club, though he's unlikely to invest as much as he had previously expected, according to one of the people. The Chinese group had discussions with Fininvest about acquiring a stake before negotiations started with Bee, another person said.
Italy's La Gazzetta dello Sport reported in January that Bee was offering 480 million euros ($540 million) for a 48 percent stake. Milan is worth $775 million, according to Forbes.
Under the plan being discussed, Berlusconi would retain a senior title at the seven-time European champion, according to the people. Berlusconi is Italy's fifth-richest person, with a net worth of $7.2 billion, according to the Bloomberg Billionaires Index.
A representative for the Chinese investor group declined to comment. A spokesman for Fininvest said he couldn't immediately comment, as did a spokeswoman for Bee. A representative for Citic Group declined to comment.
President Xi Jinping is pushing to turn China into a soccer force and last year published a national plan to grow the sport. Chinese teams have been the biggest spenders on talent in 2016, and some of the nation's richest businessmen have invested in clubs and training programs at home and overseas.
Dalian Wanda Group Co., owned by Chinese billionaire Wang Jianlin, last year bought 20 percent of Atletico Madrid and recently signed a partnership agreement with FIFA. China aims to have more than 70,000 soccer pitches by 2020 and wants its national team to be among the top ranks in Asia by 2030, the government said earlier this month.
Milan, whose full name is Associazione Calcio Milan, is a shadow of the team that could once count on a galaxy of superstars to help it win soccer's biggest prizes. Since Berlusconi took control of the team in 1986, Milan has won eight league titles, five European Cups, marking the most-successful period in the club's history.
Biggest Loss
Fans of the club, nicknamed the Rossoneri for its red and black jerseys, have witnessed a succession of poor seasons and a failure to develop a modern stadium since Milan last won the European cup in 2007. Faced with the prospect of missing out on top-tier European soccer next season, Milan fired manager Sinisa Mihajlovic and named Cristian Brocchi interim coach.
Berlusconi has been working on a possible sale of the squad at least since 2014. Since then, Milan has continued to post losses despite cost-cutting measures that have seen the team sell its most talented players.
Later this month, Milan will reveal its latest annual results. Figures for 2014 showed a net loss of 91.3 million euros, according to its website, the highest in the club's history.
Further problems could be on the horizon. Should the team qualify for European soccer next season -- it may make the second-tier Europa League -- its books face additional scrutiny. Under cost-control regulations, clubs with losses that breach certain thresholds face sanctions.
Before it's here, it's on the Bloomberg Terminal.
LEARN MORE