Merkel Cobbles Together Deal to Settle Dispute on Refugees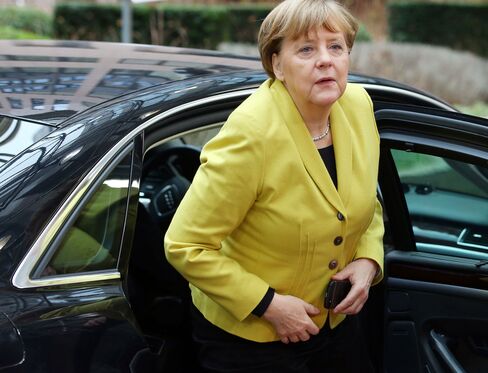 Merkel meets party leaders in late-night meeting in Berlin

Plan foresees jobs for refugees and integration measures
German Chancellor Angela Merkel cobbled together a package of measures with the leaders of her three-party coalition to integrate refugees in an effort to smooth over political differences brought on by the crisis as they warm up for elections next year.
Merkel held six hours of talks that stretched into the early morning hours with Social Democratic Party Chairman Sigmar Gabriel and Christian Social Union leader Horst Seehofer. The three forged an agreement to create 100,000 jobs for refugees and put in place sanctions for those who reject integration measures.
"It was a good evening yesterday because the coalition showed that it's capable of negotiating on important matters," Gabriel, who is also the vice chancellor, told reporters in Berlin on Thursday. "For the first time in the history of the German federal state, we are going to have a law for integration. That's a historic step."
Merkel's coalition has been bickering for months over how to handle the region's biggest refugee crisis since World War II, which saw over a million migrants fleeing war and poverty enter Germany last year. After European states stretching from Austria to Macedonia largely shut their borders and the European Union negotiated an agreement with Turkey, the influx into Germany has slowed, with about 21,000 entering last month.
Public anxiety over the refugee influx contributed to losses for Merkel's party in three state elections last month as voters turned to the populist Alternative for Germany, which called for shuttering the nation's borders and expulsions of migrants. Party leaders are beginning to look ahead to federal elections that will be held by September of next year at the latest.
The plan reached overnight includes compromises between Bavarian Prime Minister Seehofer, who has been the chief antagonist of Merkel's open-door refugee policy, and Gabriel, who largely embraced it.
"It was a long, arduous evening with good results," Seehofer said at the press conference. The deal is a chance "that we'll be able to speak about a country that has been successful with integration."
Before it's here, it's on the Bloomberg Terminal.
LEARN MORE