BofA Misses Estimates on Slump in Deals, Energy Loan Losses
Earnings and revenue miss analysts' estimates, expenses drop

Global-banking division profit tumbles 22% to $1.07 billion
Bank of America Corp. posted a first-quarter profit that missed analysts' estimates as trading and underwriting revenue dropped and energy loans soured. The stock fell in early trading.
Net income at the second-biggest U.S. bank fell 13 percent to $2.68 billion, or 21 cents a share, from $3.1 billion, or 25 cents, a year earlier, according to a statement Thursday from the Charlotte, North Carolina-based firm. Adjusted earnings per share were 20 cents, 1 cent less than the average estimate of analysts surveyed by Bloomberg.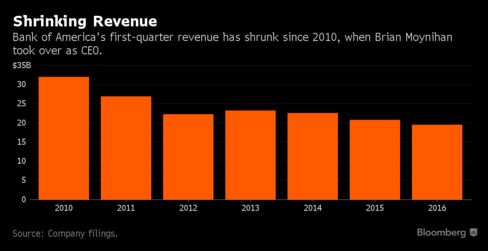 Chief Executive Officer Brian T. Moynihan, 56, spent the first half-decade of his tenure wrestling with legal costs tied to his predecessor's acquisitions of Countrywide Financial Corp. and Merrill Lynch & Co. His attempt to bolster revenue has been hamstrung by low interest rates and rising costs from energy loans that went bad as oil prices plunged.
"In quarters like this, revenue is going to be challenged," Chief Financial Officer Paul Donofrio said during a conference call with journalists. "Markets were volatile, and long-term interest rates declined significantly."
Bank of America shares fell 8 cents to $13.71 at 9:01 a.m. in New York. The stock declined 18 percent this year through Wednesday, the worst performance in the 24-company KBW Bank Index.
Revenue fell 6.7 percent to $19.5 billion, missing the $20.4 billion estimate of analysts in the Bloomberg survey. Expenses declined 6.4 percent to $14.8 billion, below the $15.1 billion predicted by Wells Fargo & Co. analyst Matthew Burnell.
Trading Operations
Profit from the global-markets division, the trading operations overseen by Chief Operating Officer Thomas K. Montag, fell 4 percent to $889 million, excluding the impact of accounting adjustments tied to debt valuations. Adjusted revenue from trading fell 16 percent to $3.3 billion, driven by declines in bond and stock transactions. That compares with the $3.29 billion average of seven analysts surveyed by Bloomberg.
A tough environment for credit trading contributed to a 17 percent drop in fixed-income revenue to $2.26 billion, shy of the $2.32 billion average estimate of seven analysts surveyed by Bloomberg. Equities trading declined 11 percent to $1.02 billion, missing the $1.15 billion estimate.
The global-banking division posted a 22 percent profit decline to $1.07 billion, on a similar drop in investment-banking fees. That compares with analysts' $1.3 billion estimate.
Consumer-banking profit climbed 22 percent to $1.8 billion as expenses fell. Profit at the wealth-management division, which includes the Merrill Lynch brokerage, rose 13 percent to $740 million as lower expenses more than offset a decline in revenue.
Energy Lending
Bank of America more than doubled the amount it set aside for soured energy loans, boosting it by $525 million from the end of last year to $1 billion as of March 31, driven by its exposure to the exploration-and-production and oil-field-services industries. At the same time, the bank reduced the amount of outstanding energy-related loans by $325 million from a year earlier.
"Our current energy reserves provides 2 1/2 years of coverage, based upon the current quarter's annualized charge-offs," Donofrio said. "We feel very good about our reserves."
Wells Fargo, the third-biggest bank by assets, also reported a slide in first-quarter profit on Thursday as the San Francisco-based firm also set aside more money to cover losses from lending to energy companies. On Wednesday, JPMorgan Chase & Co. posted profit that beat Wall Street estimates as the largest U.S. lender slashed bankers' pay and reported a decline in trading revenue that was less than most analysts predicted.
Bank of America, JPMorgan and Wells Fargo were among the U.S. banks that learned Wednesday they failed a key regulatory requirement aimed at avoiding another financial crisis: proving they could go bankrupt without disrupting the financial system. The lenders have until Oct. 1 to rewrite their so-called living wills, with the added incentive that another failure would give the Federal Reserve and the Federal Deposit Insurance Corp. power to subject them to more capital or liquidity constraints.
Before it's here, it's on the Bloomberg Terminal.
LEARN MORE