Indian startup expanding three-wheeled services to 24 cities

Uber, Ola move deeper into the hinterland in quest for growth
Ola and Uber Technologies Inc. are squaring off across yet another battlefront: three-wheeled auto-rickshaws in India's poorer second-tier cities.
India's largest ride-hailing startup began offering rickshaw rides in a dozen cities across the less-affluent hinterland on Wednesday. Its U.S.-based rival started a service just last week using the iconic three-wheeled vehicles, popular in smaller cities for their ability to squeeze through jam-packed streets.
Ola and Uber are moving deeper into the countryside as larger cities grow increasingly saturated. Apart from lower fares, there're other challenges; Ola for instance is offering classes on how to use a smartphone. Its mobile app now lets users summon three-wheelers and provide additional features such as location-tracking and an SOS button.
"It makes great sense for app startups to offer auto-rickshaws in small cities," said Jyot Chadha, India head for urban innovations at the World Resources Institute.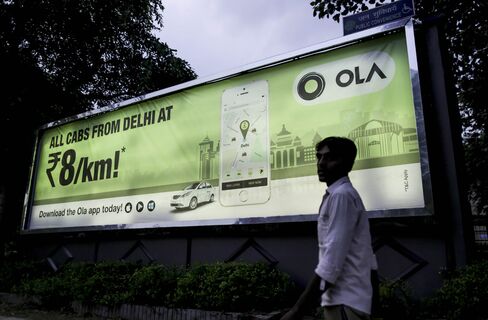 Ola, part of a globe-spanning alliance trying to curtail Uber's expansion, is expanding its network and adding services to stay one step ahead. The two already vie in motorcycles in addition to cars and even try to out-do each other on freebies such as Wi-Fi.
Ola Auto, its auto-rickshaw variant, now covers two dozen cities -- including Bhopal and Jodhpur -- and is targeting more than 2 million bookings daily by 2017. Nitesh Prakash, Ola's senior director for operations, estimates that the two dozen cities currently house three million auto rickshaws offering 30 million rides daily. Uber started competing rides in two cities last week after a trial last year.
Before it's here, it's on the Bloomberg Terminal.
LEARN MORE