JPMorgan Profit Beats Estimates on Pay Cuts, Trading Results
Expenses decline 7% to $13.8 billion as compensation falls

Revenue slips 3% to $24.1 billion, topping expectations
JPMorgan Chase & Co., the biggest U.S. lender by assets, posted first-quarter profit that beat Wall Street estimates as the firm slashed bankers' pay, and trading revenue declined less than most analysts predicted. The shares rose.
Net income fell 6.7 percent to $5.52 billion, or $1.35 a share, from $5.91 billion, or $1.45, a year earlier, the New York-based company said Wednesday in a statement. On an adjusted basis, per-share earnings were $1.41, beating the $1.25 average estimate of 29 analysts surveyed by Bloomberg.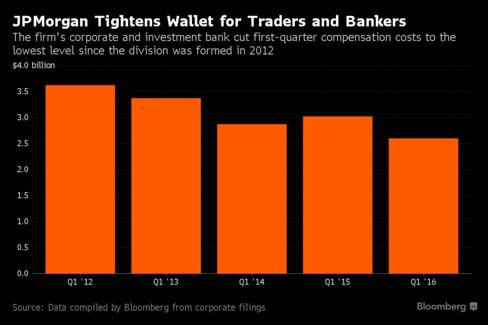 Wall Street pays keen attention to JPMorgan's report, as it's the first to show how much money the biggest U.S. banks are making from trading and advising on deals. Firms already warned that market turbulence and global growth concerns deterred clients from trading or issuing securities in the first quarter, typically the strongest of the year. Analysts including Jason Goldberg of Barclays Plc have predicted the industry's worst start to the year since the financial crisis.
"While challenging markets impacted the industry, we maintained our leadership positions and market share," Chief Executive Officer Jamie Dimon said in the statement. "Even in a challenging environment, clients continue to turn to us in the global markets."
Expenses Fall
Revenue slipped 3 percent to $24.1 billion, compared with the $23.8 billion average estimate of analysts surveyed by Bloomberg. Matthew Burnell of Wells Fargo & Co. had predicted $23.9 billion. JPMorgan said non-interest expenses fell 7 percent to $13.8 billion on lower investment-banking and trading compensation and legal costs. That compares with Burnell's $14.9 billion estimate. Pay in the investment bank fell 14 percent to $2.6 billion, down more than $420 million from a year earlier.
Return on tangible common equity declined to 12 percent from 14 percent a year earlier.
JPMorgan climbed 2.9 percent to $61.01 at 7:46 a.m. in New York. The stock had dropped 10 percent this year through Tuesday.
Markets Results
The bank warned analysts in late February that markets revenue was down 20 percent. Fixed-income trading revenue fell just 13 percent to $3.6 billion, beating the $3.24 billion estimate of Goldman Sachs Group Inc. analyst Richard Ramsden and the $3.42 billion estimate of Susan Roth Katzke at Credit Suisse Group AG. JPMorgan cited strong rates-trading activity, "which was more than offset by lower performance across other asset classes."
Equity-trading revenue was down 5 percent to $1.58 billion, exceeding the $1.35 billion estimate of seven analysts surveyed by Bloomberg. Earnings at the corporate and investment bank, run by Daniel Pinto, dropped 22 percent to $2 billion as revenue declined 15 percent from a year earlier to $8.1 billion.
Net income from consumer and community banking, run by Gordon Smith, rose 12 percent to $2.49 billion as revenue climbed 4 percent to $11.1 billion on gains in deposit-related fees, mortgage-banking revenue and card sales volume. Revenue beat Burnell's $10.7 billion estimate.
JPMorgan said profit in asset management, run by Mary Erdoes, climbed 17 percent $587 million despite lower revenue and assets under management because of market conditions. The division said expenses fell 5 percent to $2.1 billion, primarily because of lower performance-linked compensation.
(Related: JPMorgan Sets Aside More Cash to Cover Souring Oil and Gas Loans)
Commercial banking, the division run by Doug Petno, posted a 17 percent profit decline to $496 million as loan-loss reserves, fueled by the industry's exposure to energy companies, surged to $304 million from $61 million a year earlier.
Bank of America Corp., the second-biggest U.S. lender, and Wells Fargo, the top U.S. mortgage bank, are scheduled to announce results Thursday. Citigroup Inc. reports on Friday, and Morgan Stanley and Goldman Sachs release results next week.
Before it's here, it's on the Bloomberg Terminal.
LEARN MORE