Yen Intervention Futile for Sakakibara as Abenomics Nears Limits
Mr. Yen says `nothing more foolish' than failed intervention

Trend is for yen strength as Abenomics near `best-before date'
The man whose ability to move Japan's currency earned him the name 'Mr. Yen' advises against intervention to halt its appreciation as the effectiveness of Prime Minister Shinzo Abe's policies fades.
Even if Japan wants a weaker yen, any government action would be futile as "Abenomics is nearing its best-before date," said Eisuke Sakakibara, in charge of intervention at the Ministry of Finance from 1997 to 1999. He said an expansion of Bank of Japan stimulus would only temporarily slow the yen's gains to 100 by year-end.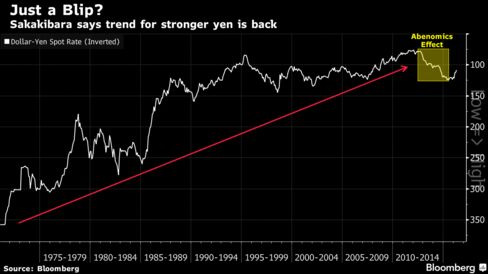 "In the current situation, Japan shouldn't even think about intervention," the 75-year-old said in an interview Monday in Tokyo. "There's nothing more foolish than undertaking intervention when it won't be effective. As likely as not, it'll have the opposite of the desired effect."
A depreciation of as much as 39 percent in the yen since late 2012 has been integral to Bank of Japan Governor Haruhiko Kuroda's efforts to revive inflation, but the trend has faltered this year amid a rush for haven assets. The central bank's options for additional easing are narrowing, according to Sakakibara, who sees room for further currency gains as the effects on the exchange rate of three years of stimulus are unwound.
Defying Warnings
The yen's surge to a fresh 17-month high of 107.63 per dollar this week has defied almost daily warnings from Japanese authorities that they are ready to take action if needed. Finance Minister Taro Aso said Tuesday he is watching currency markets with a "sense of vigilance," and will act if there are extreme moves.
"The market knows the U.S. is against intervention, and if the market knows that, then intervention is going to fail," said Sakakibara, who is currently a professor at Aoyama Gakuin University. "At this moment, the U.S. welcomes a weaker dollar."
The Japanese currency was at 108.91 per dollar as of 2:50 p.m. Wednesday in Tokyo, after falling to a 13-year low of 125.86 in June of last year under pressure from the BOJ's unprecedented asset-purchase program. The recent rate is still 23 percent undervalued, according to a Bloomberg measure of purchasing power parity based on consumer prices.
'Not Overvalued'
"The yen is not overvalued, and may be undervalued after such aggressive monetary easing," Sakakibara said. "There's little chance of a return to a weak yen."
He sees demand for the yen growing along with Japan's current account surplus -- the broadest measure of trade flows -- which has surged by the most in at least three decades relative to the overall economy. It will also benefit from a continued low rate of inflation compared with the U.S., he said.
Some agree with Sakakibara. Japan doesn't have cause to intervene in foreign exchange markets now to halt the appreciation of the yen, said Luc Everaert, the International Monetary Fund's mission chief for the country.
"Unless there are very disorderly movements in exchange rates, there is no good reason for Japan to intervene at this point," he said in an interview in Washington. "What's much more important is that Japan adopts domestic policies to strengthen growth and inflation in the economy and let the exchange rate move however it wants to."
Inflation Outlook
A gauge of bond market inflation expectations over the next decade, called the break-even rate, sits below 0.4 percent in Japan, compared with 1.6 percent for the U.S. Both central banks target consumer price gains of 2 percent.
The benchmark 10-year Japanese government bond yielded minus 0.08 percent, from a record-low minus 0.135 percent on March 18. The equivalent Treasury note yield was 1.79 percent.
Sakakibara, who held the post of vice finance minister for international affairs immediately before Kuroda, predicts the BOJ chief will hold off from further easing until the second half of this year.
The professor expects an expansion of exchange-traded fund purchases rather than bond buying, which he sees as near its limit. He says the central bank will refrain from deeper cuts to the deposit rate as there has been a poor reaction to negative interest rate policy since its announcement on Jan. 29.
Kuroda has said there is theoretically room to reduce the deposit rate to minus 0.5 percent from the current minus 0.1 percent, and that the policy works in the direction of raising stock prices and lowering the value of the yen. So far, the market effects have been the opposite, while bank lending slowed to the weakest in three years and sales of home safes soared.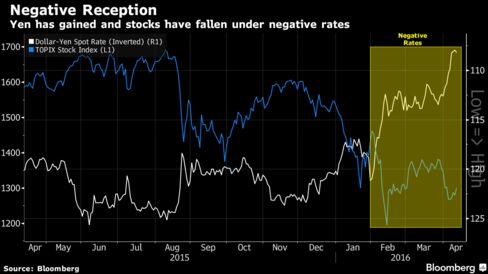 While Sakakibara has proven prescient in calling the yen's rally through 115 and then 110 this year, he still finds himself in the minority. The median forecast among analysts surveyed by Bloomberg puts the yen at 118 per dollar at year-end.
He sees it reaching 105 in the next few months, and 100 by year-end. But he doesn't expect yen gains to derail Japan's recovery -- even if the exchange rate reaches into the 90s -- as more Japanese companies have operations overseas that stand to benefit from a stronger exchange rate.
"It's not like in the past when a weak yen was unequivocally a plus," Sakakibara said. "A strong yen is not at all a bad thing. What's important is learning how to live with it, and draw out its merits."
Before it's here, it's on the Bloomberg Terminal.
LEARN MORE