European Companies Have Cash But Won't Spend It
Estimates for capex are slumping, even as the ECB expanded QE

Market reacts more positively to buybacks, high cash levels
Analysts are growing skeptical of Mario Draghi's efforts to prod companies to spend on growth.
They're cutting estimates for capital expenditures in Europe at the fastest rate since the financial crisis as chief executive officers shy away from reinvesting in their own businesses and instead bulk up balance sheets or tempt shareholders with acquisitions and stock buybacks. While analysts are still calling for a 2.6 percent increase in capex from last year, the 19 million euros ($22 million) they predict each Stoxx Europe 600 Index company will spend on average in 2016 is the most bearish forecast in six years.
European firms have kept investment in plants and equipment at about the same level for about four years, even with Stoxx 600 members hoarding the most cash ever. The reluctance is partly a symptom of eroding sentiment toward economic growth. But it's also due to income-starved investors favoring companies that buy back shares or hold the most reserves, according to Citigroup Inc. and indexes by JPMorgan Chase & Co.
"Investing in Europe is terrible," said Mathias Haege, who helps oversee 300 million euros as managing partner of MaxAlpha Asset Consultant in Frankfurt. "This environment favors buybacks, dividends and acquisitions, which are far less risky ways of keeping shareholders happy. With all the regulations and risks of another downturn in the economy, you don't want to invest in capex."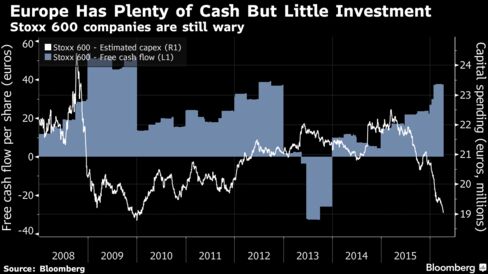 The lack of interest longer-term projects has been a problem for Europe, where average capex at Stoxx 600 members has remained around 18 million euros a year since mid-2012. For Standard & Poor's 500 Index companies, spending has climbed by about 10 percent in the period.
The Stoxx 600 slipped 0.7 percent at 9:23 a.m. in London.
The European Central Bank's efforts to revive investment may backfire and drive companies to take advantage of the cheap funding to repurchase shares, according to JPMorgan. Analysts have slashed their capex projections for Stoxx 600 companies by 11 percent since December.
Besides obvious examples in the energy and mining sectors -- Royal Dutch Shell Plc, Glencore Plc and Anglo American Plc are reducing costs and spending -- phone companies such as Vodafone Group Plc are cutting capex. Nestle SA, Nivea cream maker Beiersdorf AG and Zara owner Inditex SA have also lowered investments, while increasing buybacks or cash piles.
Vincent Juvyns, global market strategist at JPMorgan Asset Management in London, says he's optimistic spending will soon return.
"I see the light at the end of the tunnel -- most of the elements are there to support a bit more capex," Juvyns said. His firm oversees $1.7 trillion. "Domestic demand is picking up, and we finally got aggressive monetary stimulus from the ECB. That makes holding cash very costly."
Still, turbulent financial markets have been a drag on sentiment, helping send a gauge of euro-area executive and consumer confidence to a 13-month low. With little visibility on global demand and profits expected to contract in 2016, Stoxx 600 companies have increased their cash holdings to a record 2.3 trillion euros, according to filings going back to 2003.
Another challenge to boosting capital spending: Equities tied to stock repurchases are showing signs of success, with an index compiled by JPMorgan rising three times more than the Stoxx 600 in the past three years. A separate measure tracking companies with the highest free cash flow yield has done twice as well as the benchmark gauge.
"The message to CEOs is obvious -- if you want a re-rating, then reinvest less in your business and pay out more to shareholders," Citigroup strategists led by Robert Buckland wrote in a March 24 note. "We suspect much of the ECB's super-cheap debt will find its way into financing M&A and share buybacks rather than capex."
Before it's here, it's on the Bloomberg Terminal.
LEARN MORE