Alcoa Sees Slower Aluminum Demand as New China Supply Looms
Alcoa cut forecast for China consumption growth to 6.5 percent

Metal consumption now seen climbing 5%, down from 6% forecast
Alcoa Inc., the largest U.S. aluminum producer, lowered its forecast for global demand of the metal in 2016 and decreased its market deficit projection as Chinese demand slows.
Consumption of the metal used in everything from beer cans to aircraft is set to climb 5 percent in 2016, down from a previous 6 percent projection, the New York-based company said in its first-quarter earnings statement. In January, Alcoa said it estimated a market deficit of 1.2 million metric tons in 2016, which it lowered to a 1.1-million ton deficit in the latest earnings report.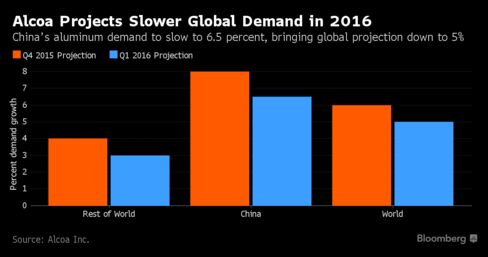 The price of aluminum dropped 19 percent last year as China continued to produce the metal amid a global glut even as the rest of the world cut production. China, the world's biggest consumer, also grew at the slowest pace in a generation. Goldman Sachs Group Inc. forecast a surplus of 1.35 million metric tons, according to a Feb. 8 report.
Alcoa forecasts Chinese consumption growth at 6.5 percent, down from a previous 8 percent projection. In addition to a slowdown in China, Alcoa reduced its estimate for demand growth in the rest of the world to 3 percent from 4 percent.
Aluminum smelters in China, which supply more than half the world's metal, are restarting idled plants after a price rally, according to an industry group that brokered an agreement in December to curb capacity.
Split Strategy
The bleaker metal outlook highlights the strategy behind the split-up that Chief Executive Officer Klaus Kleinfeld announced in September. By the end of this year, he plans to spin off the mining and aluminum producing business. He will lead a separate company made up of units that supply manufactured products.
As much as half of smelter capacity in China, the world's biggest supplier, is profitable at current prices, according to Wen Xianjun, the deputy chairman of the China Nonferrous Metals Industry Association.
The price of the metal in the Asian nation has climbed more than 20 percent from a low in November on the Shanghai Futures Exchange as Chinese policy makers signaled their willingness to bolster growth. Resumed production may reverse a decline in exports that contributed to a global oversupply.
Smelters mainly in the southern provinces such as Guizhou will restore 1.4 million tons of capacity this year, including around 800,000 tons in the first half, said Wan Ling, chief aluminum analyst with consultancy CRU Group.
New supply will reach the market as early as June, pressuring global prices, Wan said. The country idled 3.8 million tons in 2015, according to Wan.
Before it's here, it's on the Bloomberg Terminal.
LEARN MORE