Puerto Rico's 300% Bond Yields Show July Default Foreseen: Chart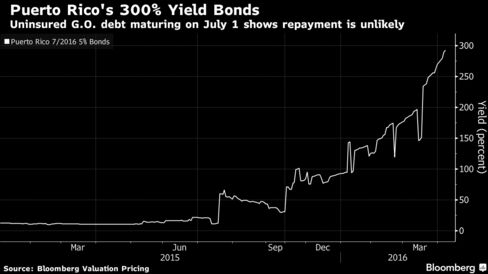 As the evidence mounts that Puerto Rico will fail to pay the $805 million it owes to general-obligation bondholders on July 1, the yields on some securities maturing that day have soared to almost 300 percent, data compiled by Bloomberg show. Puerto Rico Governor Alejandro Garcia Padilla on April 6 signed a law that would allow him to halt payments on the debt if necessary. The island's Treasury Secretary, Juan Zaragoza, said there was "absolutely" no way the government will have the funds needed to avoid a July default.
Before it's here, it's on the Bloomberg Terminal.
LEARN MORE