Can Lincoln and Caddy Find Fans in China?
The U.S. luxury models aim to grab sales from German brands.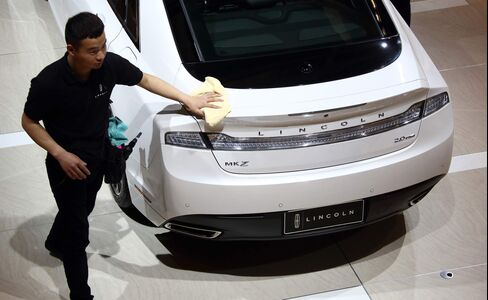 At the entrance to a luxury auto showroom in Shanghai's Pudong district, doormen greet potential customers. Visitors can relax in a tearoom or enjoy a massage before checking out the cars' various colors and features on a 46-inch interactive video screen in the dealership's Personalization Studio. All this coddling isn't to peddle some German luxe sedan or Italian sports car. This showroom, where each customer is served by at least three specialists—from the front desk, sales, and the service department—is for Ford's Lincoln brand. "Our services are of the same standard as a five-star hotel," says Wan Disheng, marketing manager at Shanghai Yongda Lincoln.
Service—at-home test drives, live videoconferences with maintenance and repair staff—is a central piece of Ford's plan to boost Lincoln sales in China. The brand entered the country in October 2014 with only three showrooms; by yearend 2016, there will be 60.
Meanwhile, in January, General Motors opened a Cadillac factory in Shanghai, its first built solely to support the luxury brand in the country. The $1.2 billion plant has the capacity to produce as many as 160,000 Caddys a year, including the new $68,000 CT6, a sedan GM plans to also export to the U.S.
China has become the world's largest auto market, with 21.1 million cars sold last year. Luxury sales account for only 9 percent of the total, or 1.9 million vehicles, compared with 12 percent in the U.S. But GM China President Matt Tsien says luxury car sales will hit 3.5 million vehicles annually by 2020. That would make the country the world's largest luxury market, he says.
Mainland buyers have traditionally equated luxury with German nameplates. Volkswagen-owned Audi is China's top luxury brand, with 30 percent of the high-end market in 2015; BMW is No. 2, with 25 percent; and Daimler's Mercedes-Benz line is third, with 20 percent.
Cadillac is far behind, tied with Chinese automaker Geely Automobile Holdings' Volvo at No. 6—they each commanded 4 percent of the market last year, according to Bloomberg Intelligence. Lincoln had less than 1 percent. "There really is a solid association in Chinese consumers' minds with the premium German brands," says James Roy, associate principal of China Market Research Group. "American cars are viewed as fine and good and functional, but they don't have that premium image."
When Lincoln started looking at the Chinese market in 2012, "we quickly discovered the retail experience was lacking," says Robert Parker, president of Lincoln China. His team consulted with brands such as Chanel and Burberry and enlisted staff from luxury hotel operator Mandarin Oriental to train its salespeople in customer service. "Our focus is around treating people better than anyone else in the industry," Parker says. "My directive is to focus on the consumer experience, and over time the rest will fall into place."
President Xi Jinping's campaign against corruption and conspicuous consumption among officials may also provide an opening for U.S. cars. "Consumers are trading down," says Roy of China Market Research Group. "People are not looking to be as obvious or flashy with their wealth as before."
Zhu Qinglin, a fiftysomething executive with a state-owned power company, is looking for a car that makes less of a statement. "There are too many people driving BMW and Mercedes in China, and they're too eye-catching," he says. Lincoln "is a luxury car, but not very known in China. I like that it's kind of special and low-key."
Cadillac's Shanghai factory will let the brand avoid the country's stiff auto import taxes, which can increase the cost of a foreign-made vehicle by about 25 percent. Audi, BMW, and Mercedes all have local factories. Cadillac could also benefit from the local popularity of sister brand Buick, which has been produced on the mainland since 1999. "Everybody has a favorable view of GM products in China," says Steve Man, a Bloomberg Intelligence analyst. Ford faces a much bigger challenge trying to sell imported, heavily taxed Lincolns. "Ford," Man says, "will need to do a lot of work."
—With Jing Yang and Gregory Turk
The bottom line: Lincoln and Cadillac have big plans in China, long a preserve for German luxury cars. A corruption crackdown could help the U.S. brands.
Before it's here, it's on the Bloomberg Terminal.
LEARN MORE