Blankenship Gets Year in Prison Over Mine-Safety Conspiracy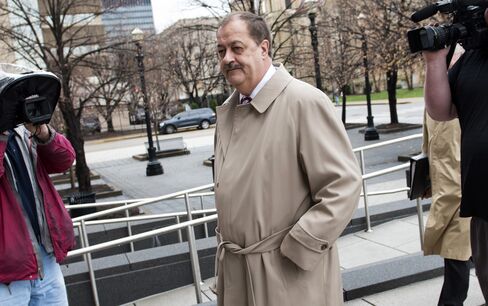 Ex-coal baron gets maximum term for conspiracy conviction

Ex-Massey CEO also fined $250,000 for flouting safety rules
Six years after 29 miners were killed in a West Virginia coal dust explosion, the man who ran the mining company like a fiefdom -- a coal baron and power broker who earned millions of dollars a year -- learned Wednesday he's prison-bound.
Donald Blankenship, who presided over his coalfields from a mountaintop castle, was sentenced Wednesday to a year in prison and a $250,000 fine, the maximum punishment after his misdemeanor conviction for conspiring to flout mine-safety rules. In December he became the first chief executive officer in U.S. history found guilty of a workplace-safety crime, prosecutors said.
Blankenship, 66, stood stone-faced Wednesday as U.S. District Judge Irene Berger handed down the sentence and then denied his request to remain free on bond while he appeals. The former Massey Energy CEO, who didn't testify at trial, denied Wednesday that he masterminded a scheme to evade mining regulations and speed-up coal production.
"It's important for everyone to know that I am not guilty of any crime," Blankenship told Berger. "There's no direct evidence that I committed any crime."
While Blankenship apologized in court to the families of the miners killed in the 2010 Upper Big Branch explosion, relatives heckled him as the former coal baron was interviewed outside the federal courthouse in Charleston, West Virginia.
Tombstone Reminder
"How come you never come to apologize to me personally? You don't have a heart!" Tommy Davis, a former Massey miner whose brother Charles was killed in the explosion, shouted at Blankenship. "For six years, he never apologized," Davis told reporters later through tears. "He's got family to hug him. I've got tombstones."
Blankenship's lawyers argued that the former top executive, cleared of securities fraud and making false statements, didn't deserve to be locked up. "Probation will provide ample warning and deterrence" to other mine operators, the lawyers said in court papers.
William Taylor, Blankenship's lead lawyer, argued Wednesday that federal prosecutors in West Virginia charged the coal baron for political purposes. He noted Booth Goodwin, who stepped down as U.S. Attorney in Charleston in December to run for governor, had made Blankenship's conviction the centerpiece of his campaign.
Vote Getter
Blankenship's conviction is being trumpeted "as the reason to vote" for Goodwin even though the defense expects an appeals court to conclude "the government did not prove" the former CEO committed any crime, Taylor told the judge.
A blunt taskmaster who bullied underlings and controlled virtually all of Massey's operations, Blankenship turned the mining company into the U.S.'s fourth-largest coal producer. West Virginia officials said Massey grew into a "towering presence in the Appalachian coalfields," with workers' homes flying the company's flag, a picture of a flame leaping out of an M.
Blankenship, a Republican, spent heavily to back politicians and judges friendly to the coal industry, according to state reports. He spent $3 million in 2004 to support a candidate for the West Virginia Supreme Court of Appeals. The winning judge later helped overturn a $50 million jury award against some of Massey's units. In 2009, the U.S. Supreme Court ruled that the judge shouldn't have participated in the case.
Investigators began probing the fatal blast at the Upper Big Branch facility, located about 30 miles (50 kilometers) south of Charleston, the state capital, immediately after rescue crews removed workers' remains.
State Findings
A state panel concluded that Massey managers forced miners to ignore basic safety measures, such as controlling coal dust and ensuring the mine had proper ventilation, as part of a push to increase production. The company operated the site in a "profoundly reckless manner," the panel said.
Blankenship disputed the state findings, contending the explosion was caused by a stray spark from a mining machine and federal regulators had refused to allow Massey to use the company's preferred ventilation plan.
The disaster should've sparked reforms on mine safety, said Phil Smith, spokesman for the United Mine Workers of America in Triangle, Virginia. But if changes didn't come within weeks or months of the deaths of the miners, Smith said he doesn't expect them to come now.
"Don Blankenship deserves to go to jail, for that is surely where he belongs," Smith said. "Although this sentence will not begin to make him atone for his crimes, there is a higher court he will answer to someday, and I have complete faith that the justice he receives there will be more than adequate."
Compensation Boost
Prosecutors argued at trial that Blankenship pushed managers to emphasize coal production over safety concerns so he could fatten his annual compensation packages. Annual coal tonnage figured into the CEO's bonus pool, according to court filings.
At trial, prosecutors presented evidence showing that in 2009 alone Blankenship made more than $18 million. He stepped down as Massey's top executive in 2010 with a $12 million retirement package. Five months later Alpha Resources Inc. acquired the company for $7.1 billion.
"Mr. Blankenship gambled with the lives of miners all for the sake of money," Assistant U.S. Attorney Steve Ruby told Berger Wednesday. Ruby has been nominated to replace Goodwin as U.S. Attorney in Charleston.
Officials of Alpha, which filed for bankruptcy protection in August, asked for $28 million in restitution from Blankenship to cover legal expenses and fines tied to the Upper Big Branch disaster. The judge denied the request earlier this week along with restitution requests from miners' families.
Recorded Talks
Even though Blankenship didn't take the witness stand during his trial, his own words came back to haunt him as jurors reviewed internal memos and listened again and again over seven weeks to recordings he secretly made of telephone conversations.
Blankenship said Massey managers should keep quiet about safety issues and focus on what "pays the bills," according to one memo. Their job, he said, was simply to "run coal."
It's likely the Bureau of Prisons will assign him to a minimum-security facility because of his short stay, said Larry Levine, who served 10 years in federal prisons and now advises on how to survive time behind bars.
Each day will start at 6 a.m. as a loudspeaker blares, "The Compound is Now Open!" Levine said. Blankenship will probably be assigned a demeaning job and may not get to pick whether he sleeps on a bottom or top bunk bed, the consultant said. Meals will feature beans, rice and tortillas.
"It's going to be a rude awakening for somebody who made $18 million in salary and bonuses one year to go to making 12 cents an hour scrubbing showers and toilets," Levine said.
The case is U.S. v. Blankenship, 14-cr-00244, U.S. District Court, Southern District of West Virginia (Charleston).
Related ticker:
ANRZQ US (Alpha Natural Resources Inc.)
Before it's here, it's on the Bloomberg Terminal.
LEARN MORE