`Risk-On' Rally Loses Luster When Viewed Against Haven Markets
Bonds, gold, yen keep rallying even as stocks bounce back

Global economic indicators still falling short of forecasts
From stocks to developing-nation currencies, riskier assets around the world have been flashing the all-clear signal for over a month. But for investors in the world's safest securities, nothing has changed, and that may spell trouble.
Some of the world's great haven destinations have proven resilient amid a rally that's sent global equities surging more than 11 percent from their February lows. That's a change from the start of the year, when there was a simple relationship between stocks and developed-economy government debt: When one went down, the other went up.
Continued demand for gold, the Japanese yen and government bonds show investors are skeptical of a rally that's lifted the world's riskiest assets after a terrible start to 2016. Global economic indicators are still falling short of forecasts, according to the Citi Surprise Index for major economies, and corporate earnings projections remain anemic. What's more, a slower projected path of Federal Reserve interest-rate increases and additional bond-buying from central banks in Europe and Japan helped push global bond yields to a record low Wednesday, hardly a sign of economic confidence.
Havens "are the leading indicator," said Guy Haselmann, head of capital-markets strategy in New York at Bank of Nova Scotia, one of 22 primary dealers that trade with the Fed. "Stocks are the lagging indicator, they're slower to react."
Here are three signals the risk-on rally may not be built to last:


Bonds vs Stocks
The correlation between the MSCI All-Country World Index and bond yields of the Group-of-Seven major economies has deteriorated since early February. Central banks' moves to prop up growth and spur inflation have sparked gains in equities while spurring demand for developed-country debt.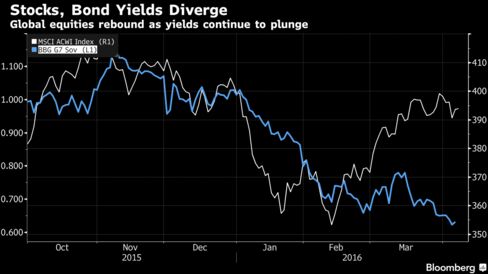 Gold vs Commodities

Gold, the go-to haven in the commodity market, has held most of its year-to-date gain even as global recession fears ease. A slower Fed and more stimulus from global central banks may boost inflation, which would make gold more attractive. Bullion advanced as much as 1.7 percent Thursday: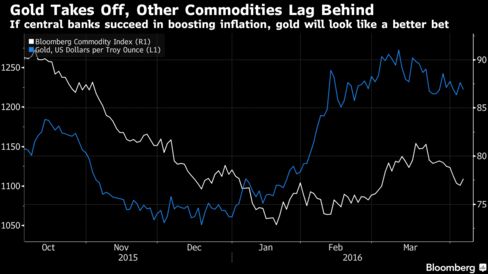 Yen vs Emerging Market Currencies

The ultra-safe yen surged past 108 per dollar Thursday, the strongest level in almost 1 1/2 years. Its advance against the greenback has outpaced the climb of emerging-market currencies since the latest Fed meeting.
"A stronger yen looks like a flight-to-quality type of trade," said John Briggs, head of strategy for the Americas in Stamford, Connecticut, at RBS Securities Inc., a primary dealer. "We've broken a lot of the correlations that dominated earlier this year."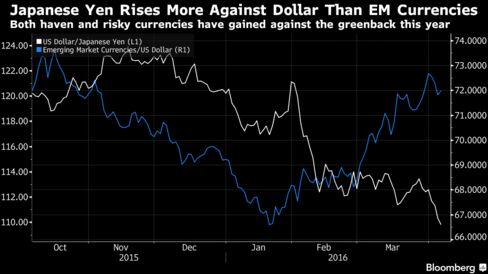 Before it's here, it's on the Bloomberg Terminal.
LEARN MORE