What Can Venezuela Sell to Pay Bondholders? No One Really Knows
Analyst estimates of access to assets range from $10b-$49b

Country, state oil company have $14b of debt payments due
Bank of America Corp. estimates Venezuela has assets and reserves just shy of $50 billion it could use to pay debt and imports. Barclays Plc says that assets are closer to $30 billion, while Nomura Holdings Inc. says the country only has access to $10 billion.
The wildly different estimates underscore just how hard it is to determine whether the country and its state oil company will be able to come up with the money they need to make about $14 billion of bond payments through next April.
Analysts and investors are trying to figure out how President Nicolas Maduro can stay current on debt as Venezuela's reserves sink to the lowest since 2003 and the economy reels from the collapse of oil. The lack of transparency that has long clouded the true state of Venezuela's finances is also making it difficult to get any kind of consensus. Its program of selling cheap oil to allies in the Caribbean and Central America is a case in point. While Bank of America says trade credits associated with those deals have a value of about $5.4 billion, Barclays doesn't factor them into its calculation.
"The question we're all trying to answer is if Venezuela has money, if it has a way of finding money to pay, and for that you have to see how many assets it could liquidate," said Francisco Rodriguez, an analyst at Bank of America in New York. "That's why I think you have to value everything."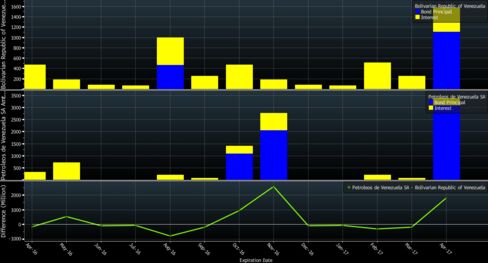 Venezuela is the most expensive country in the world to insure against default, with traders putting the chances of non-payment through June next year at 69 percent. The yield on the nation's bonds due in 2027 rose 0.5 percentage point to 26.1 percent at 11:18 a.m. in New York. That compares with a 5 percent emerging-market average yield.
Venezuela's central bank reports public sector assets of $95 billion as of the third quarter on its website. The Finance Ministry didn't reply to a request for comment on asset estimates and its ability to avoid a default.
"Venezuela's handling of this data is very opaque, which is why you have all these different estimates by analysts and in investor perceptions," said Alejandro Arreaza, an analyst at Barclays in New York. "The market in general has been very skeptical about the resources Venezuela can really count on."
Barclays estimates that Venezuela has $30 billion in foreign assets and could count with usable assets of $12 billion to $15 billion to finance its gap.
With the country running low on hard currency to pay for imports, Venezuelans face shortages of everything from deodorant to toilet paper. Reuters reported on March 7 that the government is using bonds to pay for pharmaceutical imports.
Venezuela reported foreign reserves of $13.2 billion on April 1, near the lowest since 2003.
While Venezuela's assets would have recovery value in a default, they're not liquid enough to finance the deficit this year, according to Nomura, which estimates that the country has about $10 billion in reserves and some debt liability savings.
"If they are paying suppliers in bonds and suffering through lower imports, then it suggests that there are no other sources of financing," said Siobhan Morden, the head of Latin America fixed-income strategy at Nomura in New York.
Before it's here, it's on the Bloomberg Terminal.
LEARN MORE