TrueCar Sees Progress Rebuilding Tattered Links to Dealers
Website is changed so retailers won't compete only on price

CEO Perry also will shun finance offers that bypass dealers
TrueCar Inc. is winning much-needed converts among U.S. auto dealers, its new chief executive officer said. He's trying to mend fences after many independent retailers, which provide 95 percent of the company's revenue, took offense last year at how the online provider of vehicle pricing and data did business.
"If dealers think one of their marketing providers is bad for their business long-term, they're inclined to avoid it even if it's beneficial short-term,'' Chip Perry, 62, who took over at TrueCar in December after co-founder Scott Painter stepped down, said in an interview. "Some of our past pronouncements gave them good grounds for concern.''
TrueCar's shares tumbled 58 percent last year as the company cut its 2015 revenue forecast amid a dispute with AutoNation Inc., the biggest U.S. new-vehicle retailer. AutoNation ended its agreement after deciding not to provide data that TrueCar requires. When Perry was named CEO in November, he said his top priority would be repairing relations with car dealers.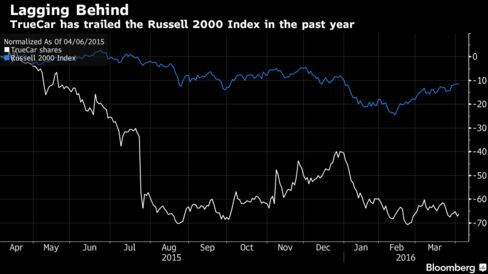 On March 27, Perry announced a series of moves aimed at rebuilding bridges to dealers, who pay TrueCar $299 for each consumer lead that turns into a new-vehicle sale and $399 for every successful used-car tip.
Those changes include providing more localized pricing comparisons on vehicles that specific dealers are trying to sell, rather than on generic cars and trucks. The company also promised to provide a fuller picture of services dealers offer, so they're not competing via the TrueCar portal simply on price. At Perry's behest, the company will delete from its website slogans that some dealers found offensive, including, "never overpay again.''
The company also promised not to promote auto loans and insurance offered by third-party vendors who bypass dealers.
This had been a sore point for traditional retailers. In a March 24 interview, John Mendel, executive vice president of U.S. sales for Honda Motor Co., mentioned TrueCar in the same breath as Google Inc. and Uber Technologies Inc. -- newcomers muscling into the car business.
"The TrueCars of the world, they're trying to offer 'true finance' and 'true insurance,''' Mendel said. "They want to horizontally integrate into everything dealers are doing.''
'Appropriate Value'
Perry, having dropped those offending practices, said there's a big opportunity to keep everybody happy. A positive response might help TrueCar's shares, which tumbled an additional 45 percent this year through April 4, including a 0.4 percent drop on Monday.
"In saying we want this business to work well for dealers, we're not in any way saying we'll dilute the value proposition for consumers,'' he said in the interview at a dealer convention in Las Vegas.
"Our goal is to help consumers and dealers reach rapid alignment around what the appropriate value of a car is,'' Perry said. "To the extent we do that, we help make the transaction smoother and more efficient for both sides.''
The 6 million people who visit the TrueCar website every month eventually become involved in about half of all new-car purchases in the U.S., Perry said. About 11,000 dealers use the company's services to identify potential buyers.
Makeup Target
So far, Perry still hasn't achieved what he has described as one of his top goals: patching up relations with Mike Jackson, CEO of AutoNation. Jackson cut ties between the companies in July after balking at identifying customers whom the AutoNation hadn't identified through TrueCar, as well as those whom the company did.
TrueCar needs both lists to pinpoint which customers it helped steer to a successful transaction, but now will save only those names in its database, Perry said. The rest will be purged.
AutoNation spokesman Marc Cannon said the retailer is watching Perry's changes, and declined to comment further.
Before it's here, it's on the Bloomberg Terminal.
LEARN MORE