Pershing Square Holdings Falls 25.6% Year-to-Date on Valeant
Pershing Square Holdings Ltd., the publicly traded security of Bill Ackman's activist hedge fund, lost 25.6 percent this year through March 31, extending losses primarily due to its stake in embattled drugmaker Valeant Pharmaceuticals International Inc.
Pershing Square posted updated performance data on its website Friday. The portfolio mirrors the investments of Ackman's hedge fund, Pershing Square Capital Management.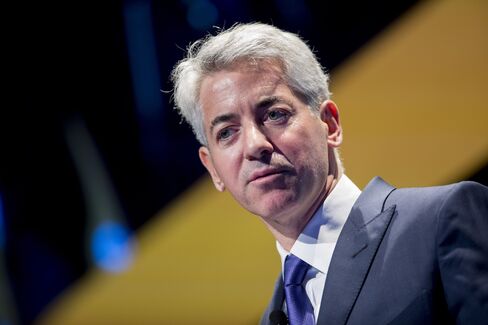 Firm-wide assets under management totaled $11.6 billion at the end of March, down from $12.3 billion end-February, the filing showed.
Valeant has been a brutal investment for Ackman, where Pershing Square's 9 percent stake -- 6.3 percent of its common shares plus options -- makes it one of the Canadian company's top three shareholders. Valeant's shares are down almost 90 percent from its high of $262.52 in early August.
Valeant Troubles
Valeant has been scrutinized over its methods and accounting, and has cut guidance and delayed filing its annual report. On March 21, Chief Executive Officer Michael Pearson agreed to step down when a replacement is found, and Valeant gave Ackman a board seat. The company earlier in March made Pershing Square Vice Chairman Stephen Fraidin a director.
Standard & Poor's on March 17 warned it may cut Pershing Square Holdings' BBB credit rating to near junk-bond status, putting the company on watch for a potential downgrade after Valeant's stock plunge eroded its net asset value.
Criticism of Valeant's pricing and drug distribution methods began last year, with fallout ranging from restated earnings to a special board committee investigation of a relationship with a mail-order pharmacy. Last week, Pershing Square Holdings said said it was cooperating after receiving a request for information from a Senate committee looking into pricing of off-patent drugs.
Pershing Square Holdings is listed in Amsterdam. The hedge fund posted its worst annual performance in 2015, with a net loss of 20.5 percent. Pershing Square Capital Management, based in New York, often buys large stakes in companies that it sees as undervalued, and pushes management and directors for changes Ackman believes will boost shareholder returns.
Before it's here, it's on the Bloomberg Terminal.
LEARN MORE