Morgan Stanley Cuts Kelleher's 2015 Pay to $15.3 Million
He was promoted to president this year, runs retail brokerage

Laura D. Tyson, longtime board member, won't seek re-election
Morgan Stanley cut Colm Kelleher's pay 4.7 percent to $15.3 million for 2015, the year before he was promoted to president.
Kelleher, 58, received a $6.31 million salary, $2.08 million in deferred cash and $3.16 million in deferred stock, the New York-based bank said Friday in a regulatory filing. He also got a $417,000 cash bonus and a $3.29 million long-term incentive. He received $16 million in total compensation for 2014, plus a $2 million "supplemental award."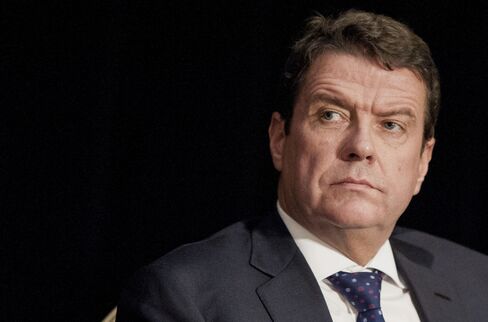 Kelleher, who's run the firm's investment bank and trading business since 2013, gained responsibility of the retail brokerage in January. The move followed Chief Executive Officer James Gorman's decision to remain in the top job for at least another half-decade, leading to the departure of brokerage head Greg Fleming. The changes established Kelleher as the most likely to take charge of the firm if Gorman, 57, departs earlier than planned. Fleming was also paid $15.3 million for 2015, according to the proxy.
Morgan Stanley shares tumbled 18 percent last year, the worst performance among the six biggest U.S. banks, as the firm struggled to improve returns at its fixed-income trading division. In January, the bank announced a $1 billion cost-cutting initiative and new leadership at a scaled-back bond-trading unit.
Jonathan Pruzan, 47, who became chief financial officer in March 2015, was paid $9 million for last year. He succeeded Ruth Porat, who left for a similar position at Google Inc., which was renamed Alphabet Inc. In January, Morgan Stanley disclosed that Gorman's pay was cut 6.7 percent to $21 million for 2015.
The firm also disclosed that Laura D. Tyson, a board member for almost two decades, isn't standing for re-election at the upcoming shareholder meeting. She had been an adviser to President Bill Clinton as head of the White House's National Economic Council. The board will shrink to 14 members after her departure.
Before it's here, it's on the Bloomberg Terminal.
LEARN MORE