Tokyo Mini-Bubble Looms as Negative Rates Drive Property Boom
Land prices have surged to record in Ginza as of Jan. 1

Property buyers 'can barely break even' on investments: Mizuho
Japan's negative interest rate policy is prompting investors looking for regular income to flock into the real estate market, raising concern that Tokyo property prices are overheating.
Japan Retail Fund Investment Corp. said in February it would buy a 50 percent stake in a commercial building for 13 billion yen ($116 million) in the capital's ritzy Ginza district where land prices have surged to a record as of Jan. 1. The Tokyo Stock Exchange's REIT index has climbed more than 6 percent this year, and net purchases of the trusts by overseas investors rose to a nine-year high in February, according to the bourse's data.
QuickTake Negative Interest Rates
Driving the rush into the nation's real estate is unprecedented Bank of Japan monetary stimulus that's caused yields on sovereign bonds as long as 10 years to fall below zero. Investment yields on prime Tokyo offices exceed the benchmark 10-year government note yield by the most since at least 2007, encouraging investors to put ever more cash in property and causing a surge in prices.
"Tokyo land prices are rising but they're nearing their limit, and there's a possibility of a mini-bubble forming in the latter half of the year," said Takashi Ishizawa, a senior researcher in Tokyo at Mizuho Securities Co. "We're getting to levels where buyers can barely break even on their investments with their rental business."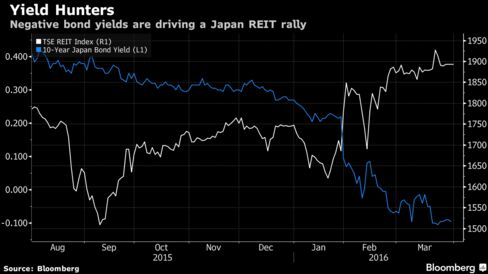 Ishizawa said that unlike the Japanese property bubble in the 1980's, when prices surged on expectations of even more gains, the current boom in Tokyo real estate is caused by a lack of investment options due to negative rates. He said that price increases will probably slow, and there's a 10 to 20 percent chance of a crash.
Investment yields on Tokyo grade A office buildings exceeded 10-year government bond rates by 305 basis points at the end of March, increasing from 260 basis points at the end of 2015 and the widest spread in data going back to 2007, according to Jones Lang LaSalle, the property-services company. The benchmark 10-year debt yield was minus 0.065 percent on Friday, after falling to as low as minus 0.135 percent in March.
"Negative rates are a tailwind for the real estate market in the short- to medium-term as they reduce borrowing cost for investors," said Toshinobu Kasai, the head of Jones Lang LaSalle in Japan. "While investment yields from real estate are falling, longer-dated bond yields are sliding even more."
Crisis Recovery
Kasai said Tokyo rents are still about 65 percent of the levels before the global financial crisis while those in New York and London have already exceeded pre-crisis levels or are nearly there. He said Jones Lang LaSalle is aiming for a 30 percent increase in its sales from Tokyo this year.
Not all investors are bullish toward the Tokyo real estate market at a time when the economy remains sluggish. Japan's gross domestic product shrank an annualized 1.1 percent in the final three months of 2015. Vacancy rates in the capital's business area inched up in February after dropping since the middle of last year, according to Miki Shoji Corp., an office brokerage firm.
"Investors are ignoring risks and paying attention to only returns, meaning they could end up buying too high," said Toru Higuchi, a Tokyo-based general manager in the asset management department at the Japan Teachers' Mutual Aid Co-Operative Society, which oversees about 823 billion yen in assets. "If property prices are rising because the economy is getting better and supply is tightening, that's one thing, but that isn't the case."
Bulls, Bears
In a survey published before the BOJ began its negative-rate policy in January, investors bearish on Japan's property market exceeded bulls for the first time since 2008, according to NLI Research Institute.
Kohei Omura, an analyst at Daiwa Securities Group Inc., expects more gains in Japanese REITs as investors chase yields. He sees the TSE REIT index rising to 2,100 in the summer, compared with 1,859.75 on Friday.
A BOJ Tankan index for big real estate companies' sentiment improved to 37 in March from 35 three months earlier, even as the gauge for large non-manufacturers overall worsened, according to data released Friday. However, developers expect the index to drop to 26 by June, the data show.
Some are more worried about the longer term.
"What's going to happen when negative interest rates end?" asked Higuchi of Teachers' Mutual Aid Co-Operative. "Depending on what happens to interest rates, there could be a crash."
Before it's here, it's on the Bloomberg Terminal.
LEARN MORE