It withstood 17 months of sanctions and a year of recession, but Russia's status as Lithuania's top export destination is no more.
Data released this month show how Russia's ban on European Union food imports and its economic contraction have finally sabotaged the two nations' trade relationship. The Baltic country, the only one of the bloc's 28 members to rely so heavily on Russia -- despite a frosty political relationship -- is now looking elsewhere.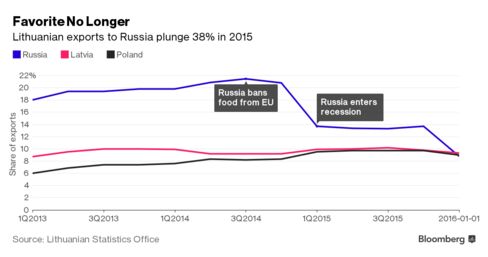 While neighbors Poland and Latvia are plugging the gap for now, and President Dalia Grybauskaite is one of the staunchest backers of the EU penalties that prompted Russia's food embargo, Lithuanian companies will probably be eager to restore dealings to the east once tensions ease and economic conditions improve.
"When the Russian market strengthens, Lithuanian dairy and other food producers are likely to return with a bang," said Jekaterina Rojaka, chief Baltic economist at DnB Bank in Vilnius. "While immensely risky, the Russian market has always been very profitable."
For Lithuania, where export weakness is souring the economic outlook, Russia remains a draw. Local brands resonate there because of a recognition that stretches back to Soviet times. Lithuanian cheese makers, for example, wouldn't have to dream up new labels and marketing, like they do to find buyers in farther-flung parts of Europe.
The Baltic nation's companies may be more forgiving than those in other parts of the former Soviet empire. Georgia, which lost a five-day war against Russia in 2008, has diversified overseas trade away from its ex-communist master. Warmer political relations haven't returned the dominance of Russia as a target market for Georgian wine and mineral water.
Lithuanian exporters will be watching closely as Russia tries to haul itself out of recession and the EU next reviews its sanctions over Ukraine.
Before it's here, it's on the Bloomberg Terminal.
LEARN MORE