World's Best Economy Betraying Investors as India Earnings Decay
Profit estimates for Sensex companies cut by most since 2009

Sensex set for best month in four years as foreigners return
Talk to a skeptic about this month's global stock rebound and the first thing he mentions is likely to be earnings, or the lack thereof. Why should the nation with the brightest economic outlook be any different?
India's S&P BSE Sensex is up 9 percent from its February low and set for its best month in more than two years. Company profits are on the opposite trajectory, falling in four of the last five quarters in the worst run since the financial crisis. That's despite the government forecasting the country to expand faster than any other major economy in the fiscal year through March.
While profits are falling worldwide, nowhere is the divergence of earnings and the economy more pronounced than in India, where bad debts at banks, the commodities slump and uncooperative weather are squeezing companies. Stagnating income is widening stock valuations and inciting bearishness among the country's equity strategists, who have left targets mostly unchanged amid the rally.
"The market is a slave to earnings, and earnings growth will prove to be elusive this year," Ritesh Jain, Mumbai-based chief investment officer at Tata Asset Management Ltd., which manages $4.8 billion, said in an interview.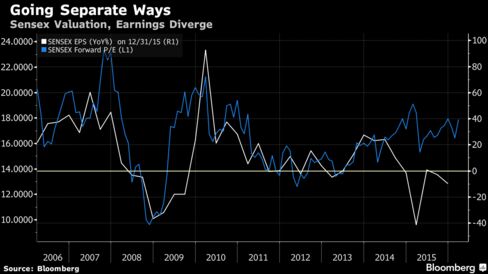 Even with its near 10 percent jump from mid-February, the 30-member Sensex remains down for the year and 16 percent below its all-time high of 29,681.77 reached a year ago. A WisdomTree exchange-traded fund that owns India's most-profitable firms has fallen 16 percent over the past 12 months.
Mixed Signals
While India's forecast growth rate of 7.6 percent is the highest among emerging markets, other indicators show why profits aren't following suit. Exports have fallen for 15 months amid a global slowdown, dragging the rupee toward its record low versus the dollar. Bad debts at lenders are at a 14-year high, undermining Prime Minister Narendra Modi's development agenda.
Back-to-back years of poor rainfall and meager increases in state-guaranteed crop prices have dried up incomes in the villages, where 70 percent of the population resides, holding back the recovery in company profitability.
"India's economic growth is a smokescreen," Nikhil Bhatnagar, New York-based senior vice president for Asian equities at Auerbach Grayson & Co., a brokerage specializing in global trading, said by e-mail. "The banking system is broken, the government's budget is stretched and rural demand is weak because of poor crop prices. All of this is affecting earnings growth and will continue to do so for a while."
Profit Outlook
Analysts have lowered the 12-month projected earnings growth estimate for the Sensex by 11 percent since May 2015, the most since the 23 percent cut in 2009, data compiled by Bloomberg show. The reduction is also due to the depressed global commodity prices. Metal and energy companies have a combined 12 percent weighting on the Sensex.
They predict the gauge will advance 11 percent to 27,708 by year-end, according to an average forecast of eight analysts in a Bloomberg survey.
Modi, who has struggled to push much-needed reforms through parliament, fired back on Feb. 29 with a slew of measures to boost rural demand. The government also embraced fiscal discipline sought by the Reserve Bank of India to consider easing further.
Rate-Cut Bets
Investors including JPMorgan Chase & Co. expect central bank Governor Raghuram Rajan to reward Modi with another rate cut when he reviews policy on April 5. Rajan has lowered borrowing costs by 125 basis points in 2015.
"The base case is for a 25-basis point cut. The market would look for more, maybe a 50-basis point cut, and guidance from the RBI that they will be cutting rates further," Adrian Mowat, the chief Asian and emerging-market equity strategist at JPMorgan in Hong Kong, said in an interview with Bloomberg TV last week.
Modi's proposals coincided with the rebound in global markets as risk appetite returned after central banks including the Federal Reserve signaled policy makers would continue measures to stabilize markets. Overseas funds have bought $2.7 billion of Indian shares since March 1, putting the Sensex on course for its best month since October 2013.
"The global risk-trade looks reasonably positive for the rest of this year, especially after the Fed's statement," Chandresh Nigam, chief executive officer at Axis Asset Management Co., which has $5.2 billion in assets, said in an interview with Bloomberg TV India. Profit growth will recover over the next 12 to 18 months as an expanding economy lifts business confidence, he said.
Pricey Valuation
With the recovery in earnings still a few quarters away, some analysts say Indian stocks are expensive even after entering a bear market last month. The Sensex trades at a 47 percent premium over a gauge of emerging markets.
Company earnings will grow 12 percent in 2016, less than the 18 percent gain still being forecast by Indian analysts, Devendra Joshi, Asia equity strategist at HSBC Holdings Plc, said by phone from Hong Kong earlier this month. The Sensex ended 2015 within 1 percent of his year-end target of 25,800, the closest call among the gauge's forecasters.
Goldman Sachs Group Inc. March 2 cut this year's profit growth forecast for the NSE Nifty 50 Index by 2 percentage points to 10 percent.
"We're still in an early cycle recovery," Auerbach's Bhatnagar said. "We will have a range-bound market for another year, at which point earnings may begin to catch up and give new impetus."
Before it's here, it's on the Bloomberg Terminal.
LEARN MORE