Roche Looks Outside Its Labs to Expand Cancer Drug's Potential
Drugmaker opens door to oncology partnerships on atezolizumab

Majority of drug combinations focused on internal options
Roche Holding AG, the world's largest producer of cancer drugs, is opening the door to more external partnerships as its latest and most promising tumor-fighting treatment heads for approval this year.
The Basel, Switzerland-based company formed partnerships with Kite Pharma Inc. and Johnson & Johnson in the last week to explore combinations using its experimental drug atezolizumab. The Roche medicine will be studied with Kite's experimental custom-cell therapy and with Johnson & Johnson's Darzalex, which is approved in the U.S. for multiple myeloma patients.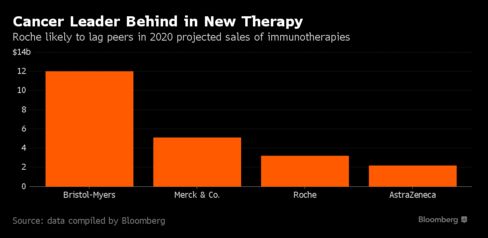 Atezolizumab belongs to a group of cancer treatments known as immunotherapies, which harness the power of the body's immune system to kill cancer cells. Roche is trying to carve out a share of the market for these new treatments, which analysts estimate may reach $24 billion by 2020. To that end, Roche is seeking to match atezolizumab, as well as other medicines in its pipeline, with those in development at rival drugmakers.
"We follow the science," Roche's Chief Executive Officer Severin Schwan said in an interview in Basel on Jan. 28. "If there is a scientific hypothesis that a combination with a compound from an external company promises better medical outcomes, we'd immediately jump on it."
Atezolizumab last week won a priority review from the U.S. Food and Drug Administration for advanced bladder cancer. The medicine is also being developed as a treatment for lung cancer. Atezolizumab could generate as much as 3 billion Swiss francs ($3 billion) in 2020 for Roche, according to analyst estimates.
That number could grow if the drug is shown to be effective in combinations.
Roche's agreement with Kite Pharma is a foray into the burgeoning field of custom-cell treatments, about which the Swiss drugmaker has expressed doubts. The companies will look into whether atezolizumab is safe and effective when used with Kite's KTE-C19 therapy in patients with non-Hodgkin lymphoma that hasn't responded to other treatment.
Roche and J&J will test their drugs in multiple myeloma, a type of blood cancer, and in solid tumors. If the combination succeeds in solid tumors, it could lead to a much broader range of uses for Darzalex, potentially raising its sales potential from the $3 billion analysts estimate for 2020, according to Bloomberg Intelligence.
The partnerships with Kite and J&J mark a small shift in Roche's strategy, which has emphasized using its own, large pool of potential compounds and medicines to find new cancer-drug combinations. By having all the components of a combination in-house, Roche avoids the complexities of sharing costs and revenue with a partner.
"There is a really unique advantage to having all these within one company," said Dan O'Day, the head of Roche's pharmaceutical division, in an interview after the company reported earnings on Jan. 28.
That strategy has paid off with with the introduction of newer breast-cancer drug Perjeta in combination with the older treatment Herceptin, boosting the latter's effectiveness in patients and supporting sales even after its patent expired in Europe.
The deals announced this month may just be the beginning.
"It makes a lot of sense to keep our eyes wide open," O'Day said. "We really look selectively and say: Where are we potentially missing targets, or where is there a best in class target we can combine with?"
Before it's here, it's on the Bloomberg Terminal.
LEARN MORE